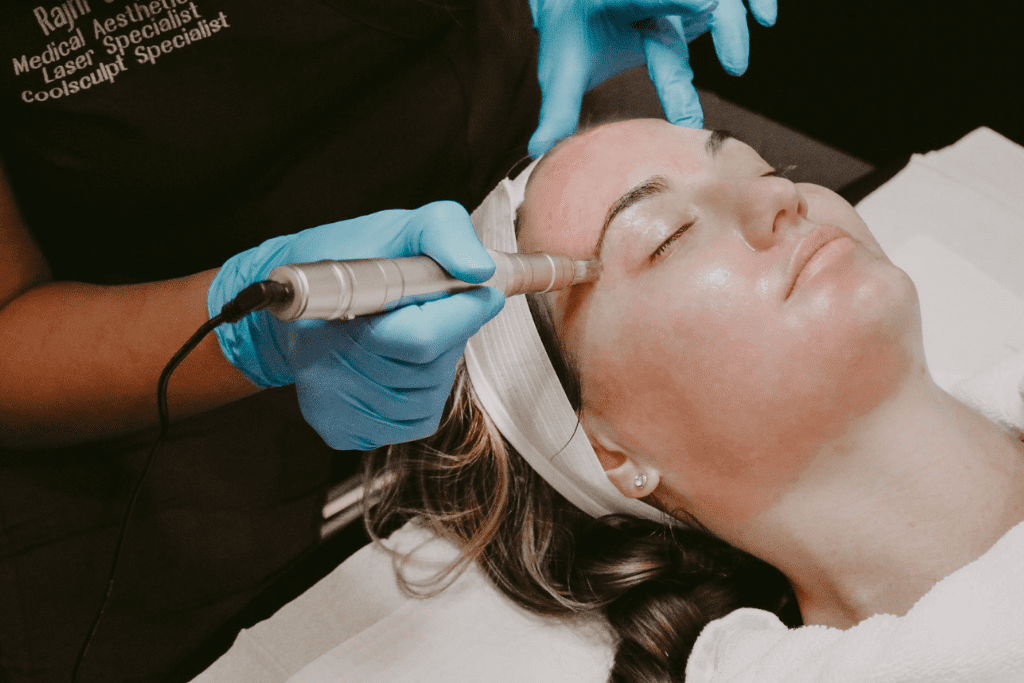 Microneedling and Vivace
Pricing
Microneedling
Microneedling w/ HA and Growth Factor $315
Microneedling w/ Core Recovery Complex $465
Microneedling w/ PRP $615:
Our Elan microneedling treatments always begin with dermaplaning. During your treatment tiny needles are used to create controlled micro-traumas to the skin in order to produce collagen and elastin for the treatment of fine lines, acne scars, and improvement of the skin's texture, tone, and color. These channels allow for topical gels, creams, and serums to be absorbed more effectively, enhancing their effects in deeper layers of the skin.
RF Microneedling by Vivace
Vivace w/ HA and Growth Factor $750
Vivace w/ Core Recovery Complex $900
Vivace w/ PRP $1050:
Radiofrequency (RF) Microneedling incorporates radio frequency energy and LED light with every pulse. This non-surgical approach contours and tightens the face, neck, and body while also stimulating the production of collagen and reducing fine lines and wrinkles. We utilize dermaplaning, topical numbing, a hydrating mask and treatment serums to customize each treatment specifically to the client's needs and skin health concerns. Vivace is a unique approach to the microneedling family as it creates a powerful result with little to no downtime. Best results are seen with a series of 3 or more treatments.
What is Microneedling?
Microneedling is a minimally invasive treatment for improving texture, pore size, fine lines and firmness of the skin. The primary procedure involves the use of .5-2.5 mm needles that create micro-traumas to breach your outer-most layer of skin. As a result of these controlled pin-pricks, your body reacts by producing collagen, an important protein for your skin's structure health. Microneedling treatments can help improve signs of aging, sun damage, scarring and other similar skin issues.
Radiofrequency (RF) microneedling (with our Vivace machine) combines microneedling techniques with radio frequency and light therapy to further stimulate and repair skin. This non-surgical approach produces the same benefits as regular microneedling along with greater tightening of skin and with less downtime.
How does it work?
Microneedling works by stimulating your body to produce collagen and in effect repair damaged skin. This minimally invasive procedure begins with dermaplaning and involves the application of very fine needles into the skin. These fractional or superficial "pin-prick" insertions stimulate the skin, produce collagen and as a result can repair signs of aging and skin issues such as sun damage.
Candidates for Microneedling
Microneedling can be a highly effective treatment for a multitude of skin issues and can broadly be used on a variety of skin tones, types and colors. Elan does recommend a pre-treatment consultation if you are considering microneedling for the first time.
Does microneedling hurt?
We apply a topical numbing cream prior to treatment. Most describe only mild discomfort during the procedure. There can be some sensitivity in the upper lip region and forehead, but this quickly subsides. Redness, and in very few cases, swelling may occur post treatment, but these skin sensitivities typically relieve themselves within 24 hours.
What are the primary benefits of microneedling?
Microneedling can be an effective treatment for a number of skin issues including reducing the signs of aging, smoothing scars, reducing the appearance of sun damage and general improvements to your skin's health through the induction of collagen production.
How many treatments are required?
The number of treatments depends on individual goals and the area being targeted. Elan believes best results are seen following 3 or more treatments in most cases with follow up treatments once or twice a year.
Curious how to prepare for your Elan appointment? Curious about recommendations after your visit? See our Pre-Treatment and Post-Treatment Guides.
Customer Reviews on Google
The experience at Elan is always enjoyable. The team is very friendly and helpful.
I see Sarah and she has transformed my skin in the last year.
Excellent service!
I have had such a positive experience with Elan Skin. The aestheticians are topnotch, personable, and give good counsel. Lindsay Young and Jen Regan are stellar professionals snd I trust their work and suggestions. My mother and sister are clients, too!
Such a lovely place!! From the first phone call with them to my first visit, everyone in the office was so kind and sweet. Caty was so helpful and answered all my questions that I had. Highly recommend this place ☺️