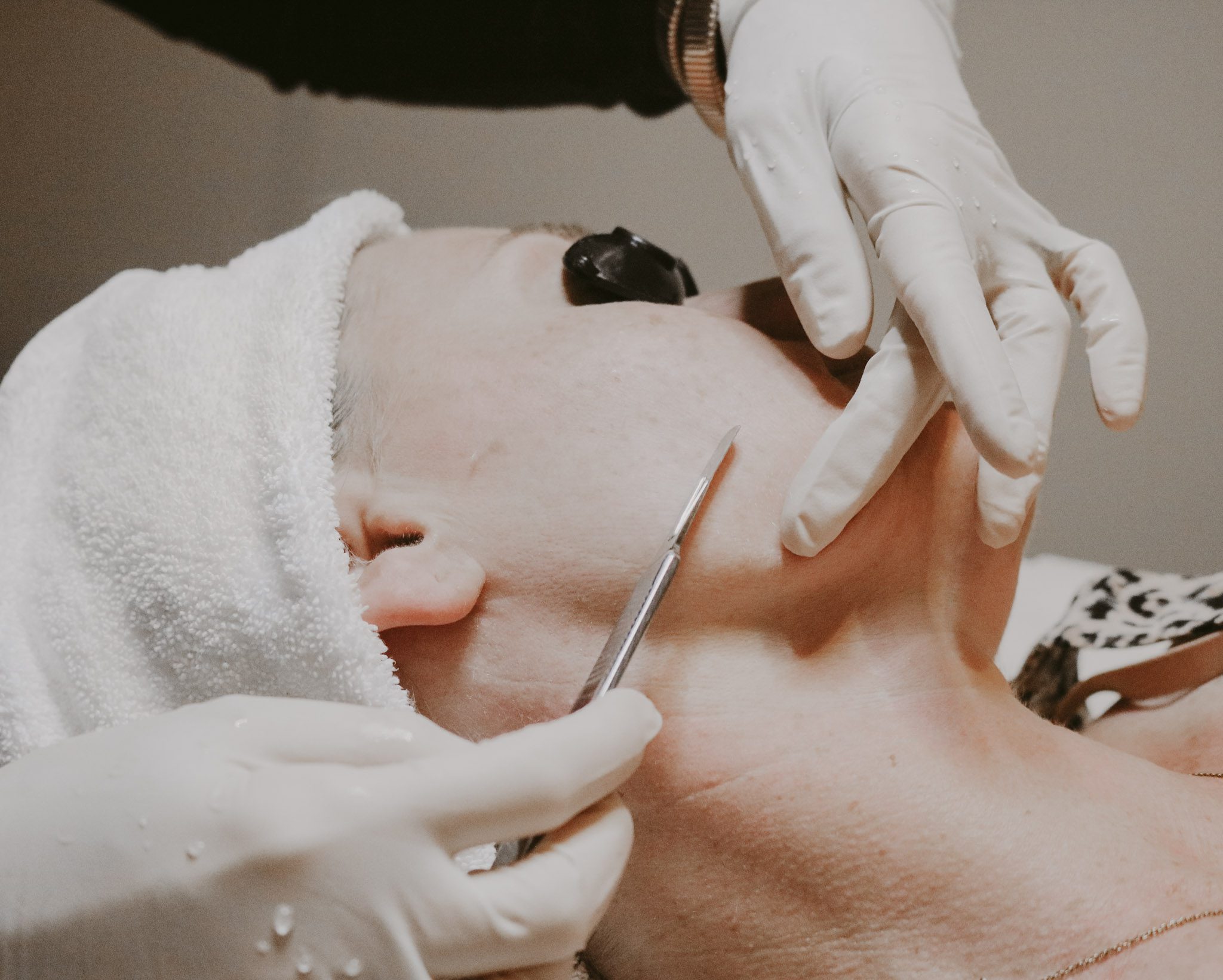 Dermaplaning
Pricing:
Dermaplaning Treatment – $90:
This doubly beneficial procedure gently removes superficial dead skin cells and unwanted fine facial hair revealing fresh, glowing skin. A clinical exfoliation provides an alternative to chemical peels, microdermabrasion, or waxing. Includes a customized mask.
Dermaplaning Add-On – $50:
Can be added on to any facial, peel, or skin treatment.
What is Dermaplaning?
Dermaplaning is a popular, non-invasive technique to remove the top-layer of dead skin cells and vellus hair (also known as "fine hair"). During this procedure, a surgical-grade scalpel is used and as a result, the treatment is best performed by an experienced aesthetician. Dermaplaning is beneficial for helping achieve brighter and "more even" skin. In particular in regard to smoothing the application of makeup following the treatment. While dermaplaning can be performed on any part of the body, it is a less efficient method for covering large areas and therefore is typically only applied to the face.
How does it work?
Dermaplaning is a simple and relatively quick procedure. The treatment involves scraping the top-layer of facial skin with a surgical-grade scalpel to remove vellus hair and exfoliate the skin. Due to the sharpness of the scalpel, it is best performed by an Elan Skin care specialist that has extensive experience with the instrument. No serum or solution is used to allow for best results. Most clients report no irritation or pain during the treatment and absolutely love the way it makes their skin feel after.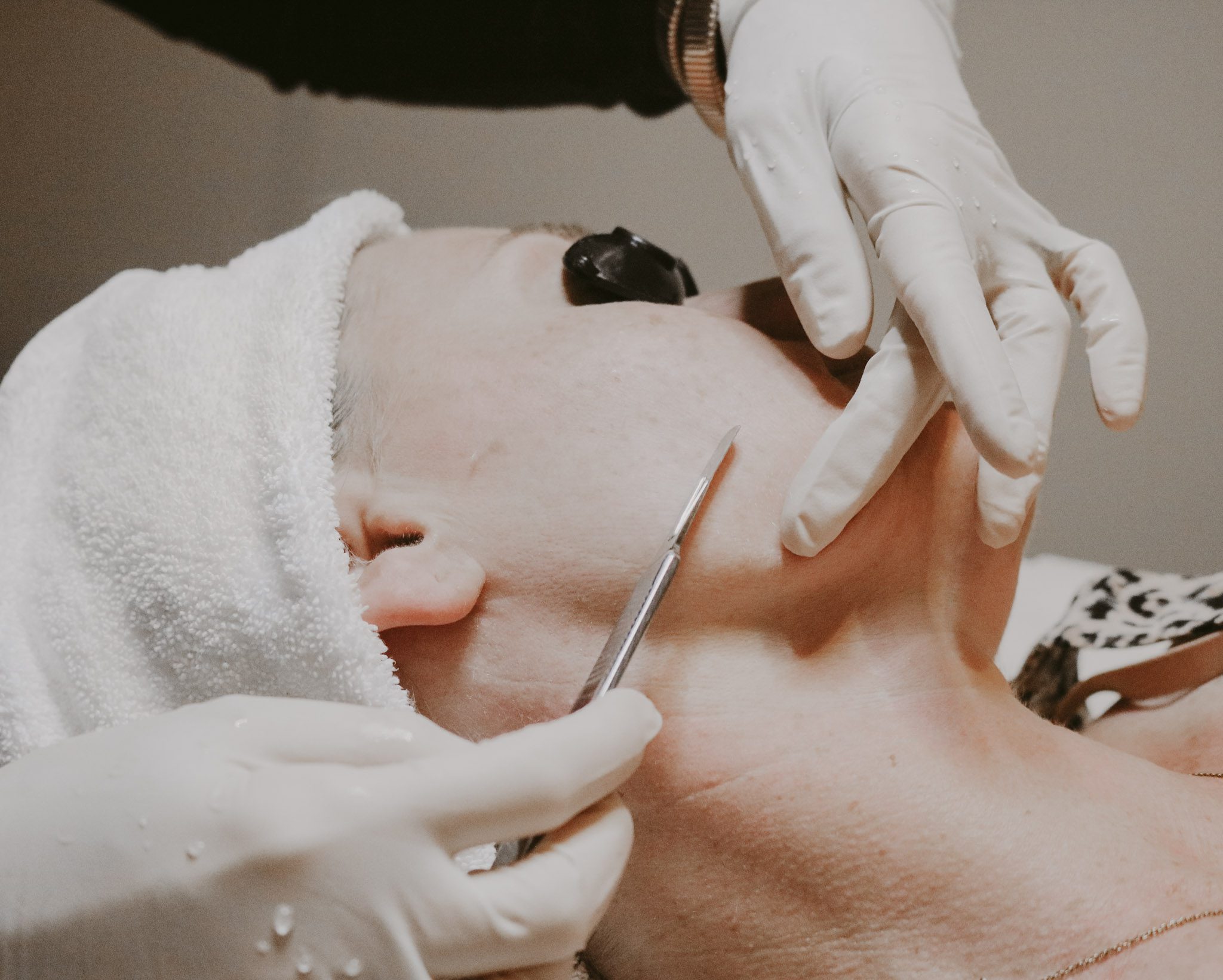 Candidates for Dermaplaning
Anyone who wants smoother, brighter skin is a candidate for dermaplaning. However, individuals with skin conditions such as highly-sensitive skin, cancer, eczema or severe acne, may want to consult one of our skin care specialists prior to scheduling the procedure.
Should I be concerned about shaving fine hairs?
Despite some notions to the contrary, shaved fine hairs do not grow back thicker and more noticeable. The benefits of removing fine hairs do not last indefinitely, but do result in short-term smoother, brighter skin.
What are the primary benefits of dermaplaning?
Dermaplaning has a number of benefits including brighter, smoother skin, aiding in the smoother application of makeup, a great add-on for facials and peels and is a painless and quick procedure to achieve fast results.
Is waxing or dermaplaning better for hair removal?
The answer to this depends on the individual and their preferences and desired outcomes. Dermaplaning is a painless way to remove facial hair, but does not remove hair from the root. For this reason, the results of dermaplaning may not be as long-lasting as other methods of hair removal. On the other hand waxing, does remove hair from the root, but may also result in further skin irritation than found from dermaplaning. Waxing can also be highly customized to small areas such as brows.
Curious how to prepare for your Elan appointment? Curious about recommendations after your visit? See our Pre-Treatment and Post-Treatment Guides.
Customer Reviews on Google
Excellent experience every single visit. Accommodating, understanding, experienced aestheticians make you feel comfortable and well cared for. Masterful injectors tailor procedures to your specific wants and needs without taking away from natural beauty. Elan is the oldest Medspa in Nashville, and it truly is a great place for all things aesthetics!
I highly recommend Elan Skin for your skincare needs! It is a beautiful space and I am also greeted with a warm welcome. Beth is the absolute best and I trust her fully for all my skincare needs! I can't say enough good things about Elan!
I love Elan Skin so much ! The staff is great and I always feel amazing when I'm done with anything I get done from an eyebrow wax, a facial, Botox or filler. They make you feel your best!