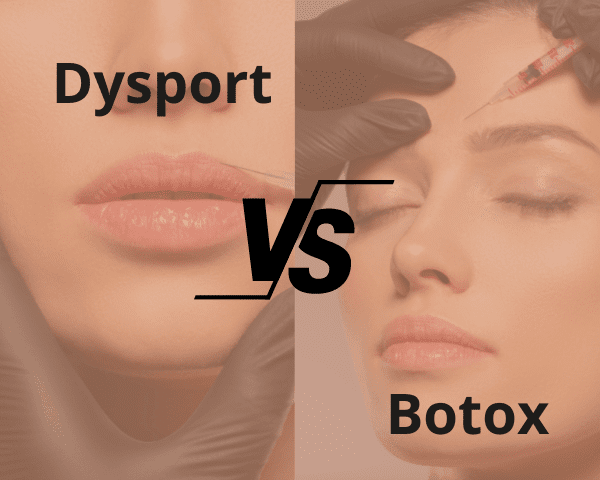 Botox and Dysport are both injectables that have grown immensely popular as anti-aging cosmetic procedures. Key similarities include:
Both are neurotoxins that block muscle contractions that cause wrinkles over time.

Both can be effective treatments for neurological disorders such as chronic migraines.

Both require minimal downtime and have little side-effects.
Still both treatments have their differences, and the best one will depend on your consultation with your provider. Let's review how these products are similar and what differences exist.
How Does Botox Work? (+ Results)
Botox is an injectable that is mostly used to treat fine lines and wrinkles, including crow's feet, glabellar lines, and forehead lines. These injections only take a few minutes to administer, even if working on multiple areas of the face at once.
Patients who undergo a Botox treatment can expect to see results in as little as a week, but may take as long as a month, and its effects can last upwards of six months at a time.
What About Dysport? (+ Results)
As mentioned above, both products are neurotoxins that block muscle contractions. We find that the differences in results often vary from person to person. Our clients who prefer Dysport highlight a quicker onset and more natural look over time. We see great results for the glabella (between eyebrows) and for crow's feet, while Botox is often preferred for the forehead as it will minimize movement for some clients for a longer period of time.
Like Botox, these injections also only take a few minutes of your time, and patients can begin to see results in as little as two days, with results lasting from 3 to 4 months.
Who Is A Good Candidate?
Most healthy adults will find that this procedure is absolutely safe, but there are some precautions to keep in mind if you decide to get either of these procedures done. When you go in for your consultation, your injector will be on the lookout for the following factors that could exclude you from candidacy:
Expecting mothers

Persons with a history of botulinum toxin sensitivity
You'll also need to make sure you provide your injector with additional medical history, such as any medications you may be on, as blood thinners and muscle relaxers, for example, can have harmful interactions with the toxin.
Certain skin disorders or the condition of your skin are also factors that can exclude you from being a good candidate for Dysport or Botox.
Which is More Cost-Effective?
We think both products are great and equally effective on respective fans of each, so we price them at the same level. There can be some confusion around the number of units involved since they are diluted differently, so our pricing structure aims to alleviate that by making them equal in cost for all treatments.
Both products have a great customer loyalty program which allows you to save money with each visit. The Elan front desk team are experts at making sure you get all the value possible from these programs.
Schedule a consultation with a licensed professional at Elan to see which beauty treatment is best for you and start earning points right then and there!