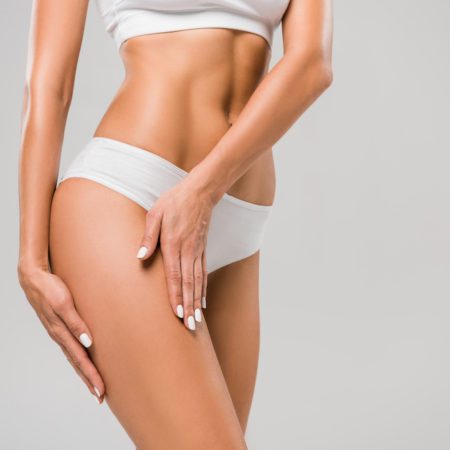 Are you frustrated to know that even by following an exercise regimen and eating a healthy diet, it is nearly impossible to sculpt perfect thighs along with a toned abdomen? That is why the non-invasive procedure known as Coolsculpting has become so popular and regularly performed in Medical Spas. 
Who hasn't struggled to lose stubborn fat cells in the most challenging areas?  The procedure literally freezes them out!
Here's everything you need to know about this revolutionary treatment:
What Is Coolsculpting?
Coolsculpting is currently the most popular non-invasive, body-sculpting procedure on the market. It works by removing pockets of fat found above the knees, on the back, in the outer and inner thighs, on the abdomen, under the chin, in the upper arms, and around the waist. It also helps to improve shape during or after the process of losing weight. 
The treatment uses cold to permanently destroy the fat cells congregating in these particular stubborn areas with little to no pain or downtime, so anesthesia is not needed.
As a matter of fact, the procedure is specifically designed to sculpt your body without surgery. The only real discomfort you'll feel is when the doctor first places the applicator, but most patients view this discomfort as minimal.
Elan Skin is a medical spa in the Green Hills community of Nashville, TN. We are trained in advanced Coolsculpting techniques. Click here to book an appointment or call us now at 615.814.4999.
It's Quick & Easy — So How Does Coolsculpting Work?
One of the greatest advantages to Coolsculpting is that it is both quick and easy. In fact, on average it actually takes no more than 35 minutes for a single area.
First, your technician will measure and photograph the area that you've selected. Based on an assessment, a specific applicator is chosen due to the shape, size, and "pinchability factor" of the fat that is to be frozen in your "trouble spot." The applicator is then attached to both the treatment area and the cooling device. 
Each applicator has a unique degree of suction since each area requires a different amount. For example, the thighs require more of a flat surface with minimal suction, while most other areas need greater suction. The trick is to have no space between the skin and the applicator so that every time the cold is applied, the surface temperature is taken and fed back to the cooling device. This enables it to automatically adjust the temperature for the patient's safety.
After the unwanted fat is frozen and crystalized, it will appear like a three-dimensional rectangle under the skin. It is similar to a stick of butter. Your technician will remove the applicator and massage the treatment area to break up the crystals or employ radio waves for a more thorough result. Either way, the broken up fat cells become absorbed by the body and eliminated as waste products. Radio waves do tend to speed up the absorption of fat as well as keep the swelling in check.
Candidates For Coolsculpting
Any prospective patient that can pinch at least one inch of unwanted fat from the possible treatment area is a perfect candidate for the procedure. This usually occurs in people that are at their ideal weight, but still battle minor fat that refuses to disappear despite exercise or dietary changes.
While the procedure is not designed for those just embarking on a weight loss journey it is perfect for people who need just an extra step to reach their desired weight. If the fat is not malleable or pinchable, however, this treatment is probably not for you. This procedure helps put the finishing touch on your body after losing weight and slimming down, giving you the body you've been working hard to achieve.
Schedule a consultation and find out if you're a good candidate for this revolutionary body sculpting procedure.
How To Prepare
Another huge advantage to Coolsculpting is the minimal prep work needed ahead of time. For most clients this is a huge relief as they've already tackled the hard part of exercise and dietary changes to get here.
5 Days Before – You'll want to skip supplements or medication that could potentially thin out your blood. This simply helps reduce the chance for bruising. However, always consult your technician first. It's also best to avoid tobacco products and tanning and to eat as clean and healthy as possible. This will put your body in its best condition for Coolsculpting.
Day of treatment – Be sure to get plenty of rest the night before. On the day of treatment, wear loose clothing and comfortable underwear. You may even want to bring a change of clothes in case any of the gel gets on your garments. Bring a book, magazine or new podcast to keep you entertained, especially if you are treating more than one area. At Elan Skin in Nashville, you are also able to watch Netflix in the room as the procedure is performed. 
What Are The Side Effects of Coolsculpting?
Like any other cosmetic procedure, this treatment does have some potential side effects. The most common issues are temporary and resolve as quickly as within a few weeks.
These problems may include:
mild swelling and redness

itching, tenderness

dullness, or numb feelings near the treatment area

possible bruising
Occasionally people experience a tingling sensation and a bit of sensitivity right after the procedure. These issues can be easily treated with a dose of ibuprofen. You may also wear compression garments for a few days to reduce swelling.
Also, contrary to reports, no fat will be released into your bloodstream.
Results of Coolsculpting
Some clients report seeing some recognizable results from the process within one month, however, it usually takes at least three months for the full results to emerge. Once the results develop and are fully visible, they are extraordinarily long-lasting.
This is because all of the fat cells that we will ever have are formed during puberty, and by the time we reach 18 years of age we are done forming them. As we lose and gain weight, these same cells expand and contract, but the amount stays the same. 
This process freezes up to 20% of these fat cells, which are then shattered, destroyed, and absorbed by the body. These cells do not regenerate and they are permanently dismantled and eliminated. As such, you are less likely to gain weight in the treated areas if you incorporate proper diet and exercise.  This means staying fit by working out and eating appropriately over the long run is necessary to keep the results. 
How Many Treatments of Coolsculpting Are Needed?
The number of treatments necessary also varies from one patient to another. This all depends on individual contouring goals, how many pockets of fat to reduce, and how big the pockets are. If focusing on a single area, one treatment may do the trick. However, if there are several places to shape, it could take five procedures, spaced apart every six weeks to get the desired results.
Massaging the area may allow results to appear quicker than usual according to some clients, though this may not work for everyone.
Is There Any Downtime After The Procedure?
Another amazing plus for Coolsculpting? With this procedure, there is virtually no downtime. You can resume activities as well as go back to work or school on the same day that you have your treatment!  You may feel a little discomfort, but the rest needed for other surgery or invasive procedures isn't required.
Coolsculpting's process of freezing fat to shape your body and reduce weight is popular for good reason. It's safe, inexpensive, and has little to no downtime. It's no wonder why Coolsculpting has become the number one procedure to help get people to their ideal shape and body! 
Click here to book a consultation or call now at 615.814.4999.