Facials
Pricing:
Elan Signature Facial $110
A luxurious facial experience designed to address skin needs and help you relax. Includes deep cleanse, steam, exfoliation, extractions, and concludes with custom mask and shoulder and neck massage.
Elan Express Clean Facial $80
Our fastest, streamlined facial option. Includes deep cleanse, exfoliation, extractions, and concludes with mask OR light therapy.
Teen Facial $65 (for those still in college or younger)
Designed to address specific teen skin care needs. Includes deep cleanse, exfoliate, extractions, and light therapy.
Elan Medi-Glow Facial  $200 
Our most thorough and advanced facial. Includes deep cleanse, dermaplane OR microdermabrasion, extractions, skin peel and concludes with custom mask and shoulder and neck massage.
Facial Addons:
Dermaplaning $45
Add to any facial, peel, or skin treatment
Custom Mask $30
Mask suited for your skins needs – add to any facial, peel, or skin treatment
Customized peels are available with most facial treatments; your aesthetician will be happy to make a recommendation based on the results of your pre-facial consultation.
Price quoted at consultation.
How does it work?
All Elan facials involve a pre-facial assessment of your skin and skin care needs, cleansing, exfoliation and extraction. Our signature facial also involves a massage and mask.
Cleansing: The aesthetician will begin by massaging a cleanser to remove any traces of makeup, dirt or debris. During this part of the process, your specialist will also evaluate your skin condition to access and recommend what treatment is best for your particular skin care needs.
Exfoliation: Depending on your particular skin care needs, steam, a warm cloth, chemicals or creams will be applied to open up pores and remove dead skin cells.
Extraction: This part of the process targets individual pores which have been clogged by dirt or dead skin cells which can induce acne, whiteheads or blackheads.
Massage: Depending on your chosen facial, a massage may be included to stimulate facial muscles, improve drainage and, of course, help you relax.
Mask: Depending on your chosen facial, a mask will be applied to treat access oil or improve facial hydration.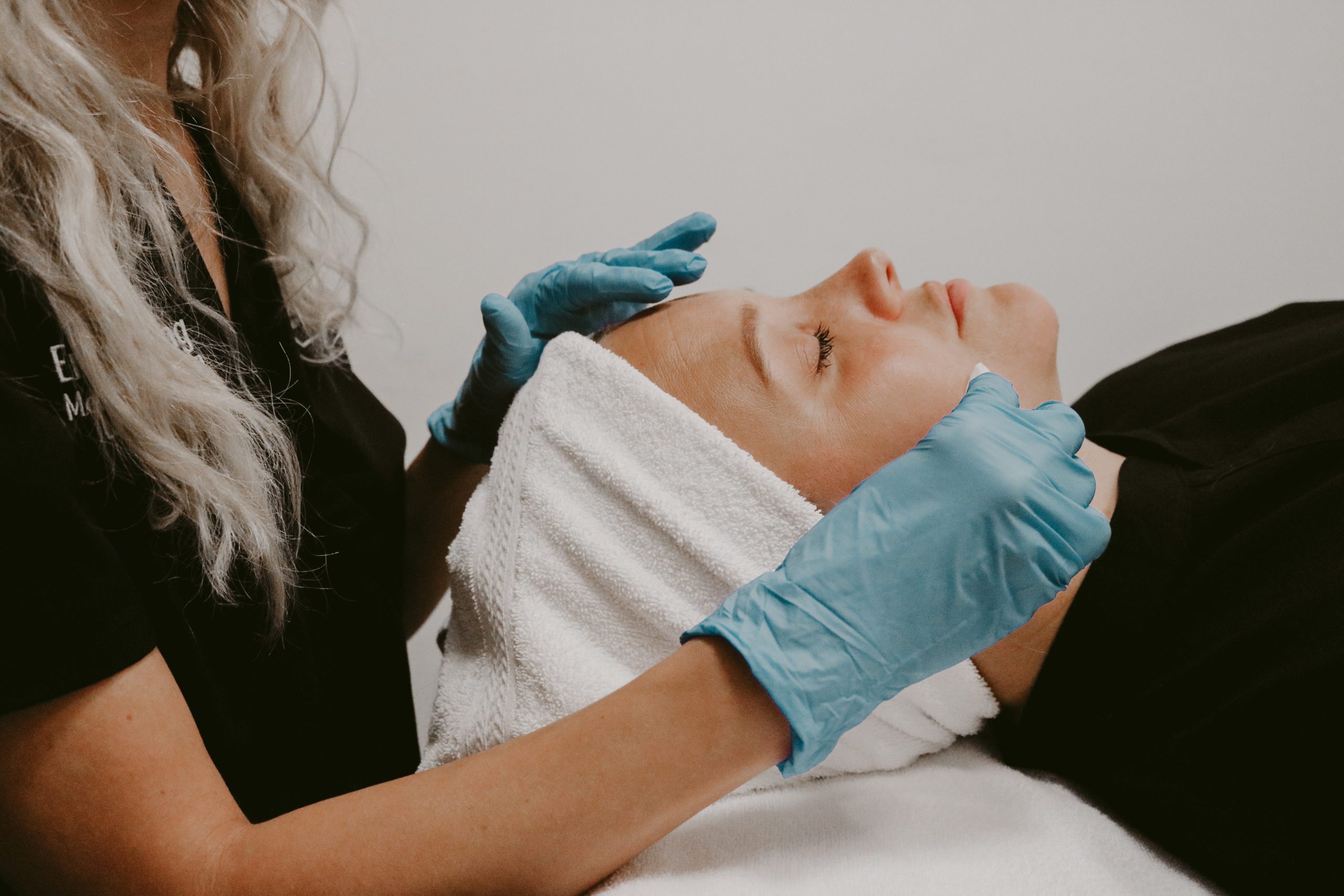 Candidates for Facials
Anyone and everyone is a candidate for a facial, including teens. This is particularly the case if you are dealing with breakouts due to access oil, lack of hydration or other environmental issues. Facials are an extremely popular way to de-stress and promote healthier skin.
How long does the glow from a facial last?
Facial glow typically subsides anywhere from 48 to 72 hours. However, there are several long-term benefits from regular facial treatments such as cellular regeneration and improved skin.
What are the benefits of a facial?
Facials offer many benefits including improved hydration, deep cleaning of pores, cellular regeneration, temporary glow and they can aid in the treatment of mild skin issues such as clogged pores that induce acne breakouts. Facials are also a great way to relax and ease tension.
What does a facial not help with?
Facials should not be considered as a way to fully eliminate acne, permanently resolve discoloration, treat rosacea, remove wrinkles or as a replacement for Botox.
Are all facials the same?
No, each facial is modified according to the specific skin care needs of the individual. The exact process of your individual facial will be determined during the pre-facial consultation. That said, Elan does offer 4 different facial packages depending on your preferences.
Curious how to prepare for your Elan appointment? Curious about recommendations after your visit? See our Pre-Treatment and Post-Treatment Guides.
Customer Reviews on Google
The experience at Elan is always enjoyable. The team is very friendly and helpful.
I see Sarah and she has transformed my skin in the last year.
Excellent service!
I had the Signature Facial and the Dermaplaning Treatment at Elan. This was by far the best facial that I have ever had! It was so relaxing and my skin was absolutely radiant after my treatment.
I also had dermaplaning which I had never done before. I have sensitive skin so I was a little nervous at first, but the esthetician calmed my nerves and the results were magical!
I had a fantastic experience at Elan. I got (my first) microdermabrasion facial & was super impressed by the communicative approach, aftercare advice, &, most importantly, results.
You can tell how much care & attention is put towards the client's experience which is refreshing.