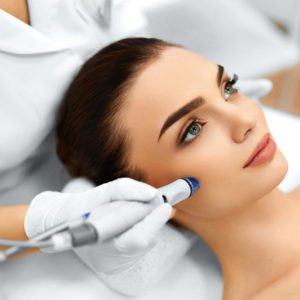 Are you ready for more youthful skin with instant results and virtually no downtime? If your answer is yes, you're in good company. That's exactly what the wildly popular process called "HydraFacial" delivers to those seeking a speedy solution to youthful skin.  
Here's a breakdown of everything you need to know about this go-to skin treatment that's being performed every 15 seconds around the world.
What Is A HydraFacial?
This medical-grade resurfacing treatment offers a unique three-step process, unlike any other, to give you the glowing skin you've always wanted. However, due to the fact that this technology is patented, only registered and licensed spas can offer this treatment, or it can be performed by a HydraFacial aesthetician. 
Elan Skin is a medical spa located in the Green Hills community of Nashville, TN. We offer one time HydraFacial appointments for those who want to find out what all the fuss is about and package deals if you're ready to take your skin treatment to the next level. Click here to book an appointment or call now at 615.814.4999.
What Is the HydraFacial Process? 
There are three steps in the HyrdraFacial process: cleansing, extracting and hydrating.
Cleanse + Peel
In the first step, the skin is gently cleansed and resurfaced to remove the dead skin cells and any excess oil from the skin. There is a mix of serums used to break up dirt and oil that could be clogging your pores. This step brings the same benefits as a chemical peel by uncovering a whole new layer of skin and aiding in the youthful appearance of your skin.
Extract + Hydrate
In this step, a painless suction removes debris from the pores and is followed by intense moisturizing to replenish the skin. Skin "superhero" serums full of antioxidants, peptides and hyaluronic acid are included in this stage of the process to strengthen, improve and leave you with more healthy skin. 
Fuse + Protect
In this last step, the skin's surface is saturated with hydrating and nourishing serums. During this phase of the process, specific skin concerns are addressed to help you achieve maximum glow and the look of youthful, smooth skin.
What Are The Benefits of HydraFacial?
HydraFacials are the ultimate boost for your skin. The immediate results include a brighter, clearer, plumper complexion and more healthy skin. You can walk out of the treatment with your best face forward – complete with the best possible you. Clients report feeling as though their skin is cleaner, silkier and smoother than it's ever been before. 
It can reduce fine lines and wrinkles that result from aging as well as even out skin tone and texture. The process also helps hydrate and firm older skin that has begun losing some of its youthful glow.
Because the HydraFacial is customizable, any skin issue can be addressed. The HydraFacial has a solution for almost all skincare needs including enlarged pores, oily skin, brown spots and more. Whatever your reason for wanting a skin refresh, the HydraFacial delivers! 
Who Should Get A HydraFacial?
HydraFacials are relevant to almost anyone. Like it or not, everyone's skin starts to see the signs of aging and damage over time. In other cases, individuals are battling problematic skin issues that could benefit greatly from the replenishing effects of HydraFacials. For example, people with hyperpigmentation or sun damage see incredible results with regular treatment. 
Even someone just looking for a skin polish before a big event, like a bride before her wedding benefits from this skin reset. Since the process is customizable, your treatment can be tailored to address just about any skin condition or desired outcome. 
Do HydraFacials Hurt?
The short answer is no. The vacuum-like part of the process is practically painless with only slight tugging on the skin. During exfoliation you may feel a sensation akin to something scratchy rubbing on your face. For most people, it's a short period of discomfort, but more unpleasant, and not painful.  
One thing to note is that while not painful, the process does involve a large machine that makes whirring noises. That's why it's considered more of a working facial rather than a spa treatment. 
Are There Side Effects of HydraFacial?
HydraFacials are the most popular in-office treatment not only because of the amazing results, but due to the minimal side effects of the process. First, there is virtually no downtime post treatment. You can expect to see some redness, but it will quickly disappear. You can usually even wear makeup the next day.
For those with sensitive skin, there is a chance that the serums might irritate the skin. However, since your esthetician works with you to customize your treatment, adjustments can be made to minimize adverse reactions.
Is HydraFacial Safe?
As mentioned previously, thanks to the customizable nature of the treatment the process is safe for most skin types. People with rosacea, sunburns or active rashes should talk with a dermatologist before seeking treatment to prevent any potential flare ups. 
How Many Treatments Do I Need?
As with any skincare treatment and regime, how many HydraFacial treatments you need will depend on your skin and your skin care goals.
Clients report results after a single session, lasting as long as a month. A single session or quarterly treatment may be perfect for brightening your skin before a big event or between seasons.
However, we recommend using this as a way to improve skin over the long-term. For clients struggling with acne or who want to reduce the effects of aging, we recommend consistent treatments every four to six weeks. This will provide maximum results. 
I'm Ready To Start, What's Next?
To book a reservation at our medical spa, click here to book online or call now at 615.814.4999.