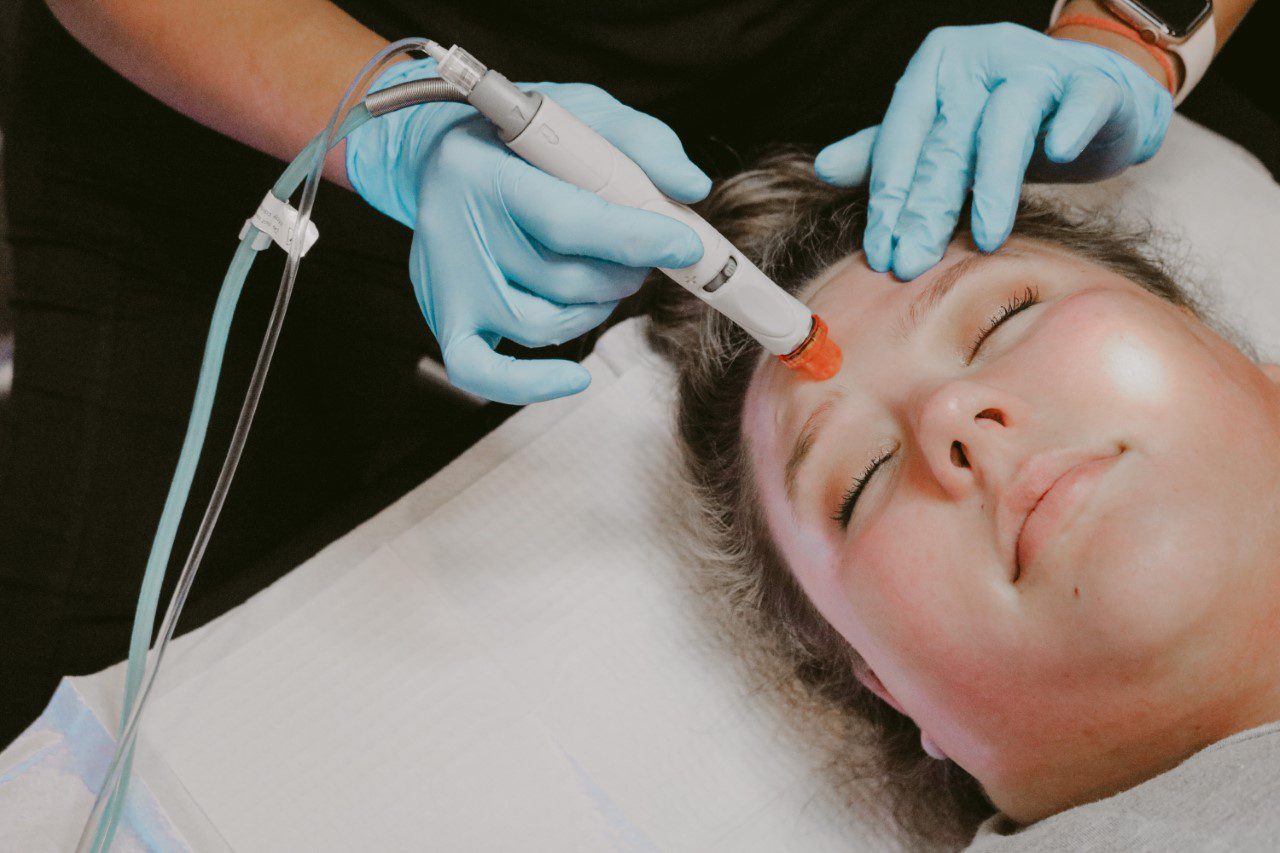 HydraFacial
Pricing:
HydraFacial $210
Add-On Boosters $30-$95
HydraFacial deeply cleanses, exfoliates, extracts, and hydrates the skin utilizing super serums filled with antioxidants, peptides, and hyaluronic acid.
Exfoliation through mechanical and light acids deeply cleanse, stimulate, and hydrate skin. Pores are minimized. Elan offers options to add boosters which address firming, clarifying, brightening, redness and other skin concerns. Eye and lip add-on are also available.
What is a HydraFacial?
HydraFacials are an extremely popular treatment to cleanse, exfoliate and infuse skin with intensive serums utilizing medical grade products such as SkinCeuticals, ZO Skin Health and others. This treatment is highly customizable and may be used to address skin concerns such as brown spots, acne, hyperpigmentation, wrinkles and more. HydraFacials involve a specialized device that simultaneously cleans out pores and stimulates the skin with select products depending on individual goals and needs. Targeted add-ons are available depending on your concerns and desires.
How does it work?
HydraFacials incorporate a 3-step process to deliver a quick and gratifying glow. The first step in the process begins with a tool that gently opens pores and removes superficial debris from the skin. The next step involves deeper extraction of debris that are more stubborn and clog facial pores. In this step, a specially designed vacuum tool is used to gently suction stubborn areas vs a pointed tool used in similar procedures. Once the skin is prepped, cleaned and extracted of dirt and oils, we use Hydrafacial to infuse customized products that help minimize common skin concerns. In as little as 30 minutes, you can simultaneously deeply clean, extract and infuse your skin for near instantaneous results.
Candidates for HydraFacials
HydraFacials are a great treatment for a wide variety of ages, complexions and skin concerns. If you are experiencing active rashes, sunburns or rosacea, you may want to contact one of our skin care specialists prior to booking an appointment.
Do HydraFacials hurt?
HydraFacials, while very active, are considered extremely gentle and clients generally report no pain from the procedure. Whereas other facials utilize a "pointed tool" to extract dirt and debris, the instrument used in a HydraFacial simply vacuums and infuses product without "digging" into pores.
What are the primary benefits of a HydraFacial?
The primary benefits of a HydraFacial include improved tone and texture, increased firmness, as well as production of a bright glowing complexion. Results are near instantaneous and the procedure can be completed in as little as 30 minutes.
How many treatments are required?
The benefits of a HydraFacial are noticeable near instantaneously. Results will be most noticeable in the first week after the procedure and generally last roughly 4-6 weeks post treatment. HydraFacials are a great monthly treatment to aid in consistent clear, glowing skin.
Curious how to prepare for your Elan appointment? Curious about recommendations after your visit? See our Pre-Treatment and Post-Treatment Guides.
Customer Reviews on Google
Excellent experience every single visit. Accommodating, understanding, experienced aestheticians make you feel comfortable and well cared for. Masterful injectors tailor procedures to your specific wants and needs without taking away from natural beauty. Elan is the oldest Medspa in Nashville, and it truly is a great place for all things aesthetics!
I highly recommend Elan Skin for your skincare needs! It is a beautiful space and I am also greeted with a warm welcome. Beth is the absolute best and I trust her fully for all my skincare needs! I can't say enough good things about Elan!
I love Elan Skin so much ! The staff is great and I always feel amazing when I'm done with anything I get done from an eyebrow wax, a facial, Botox or filler. They make you feel your best!