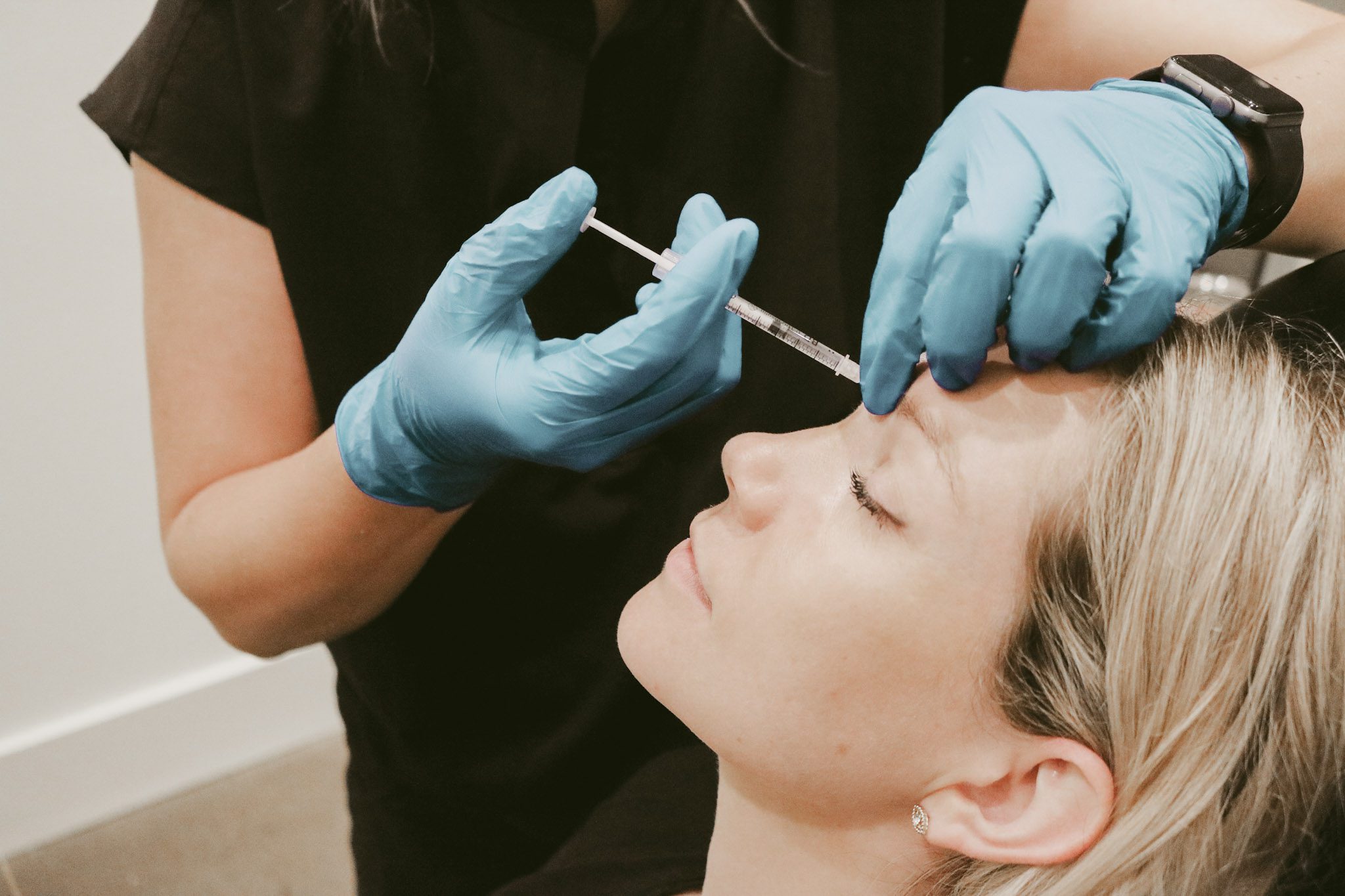 Botox + Dysport – $13/Unit:
Botox injections can temporarily relax facial muscles to prevent or smooth out existing wrinkles and restore skin to a more youthful appearance.
Fillers (Full Syringe – $750-$850, Half Syringe $400):
Hyaluronic Acid (HA) fillers are used to restore lost volume in the face, plump lips and soften mild to moderate lines. HA is a naturally-occurring substance in the skin that works by not only adding volume but also by delivering vital nutrients that help the skin maintain moisture and softness. With only one treatment patients will see visible improvement. Some swelling may occur immediately after treatment. Elan offers filler options from Allergan and Galderma.
What are Injectables for Skin Care?
Injectables for skin care are highly popular procedures to help relax facial muscles and reduce signs of aging, or alternatively, rejuvenate and enhance soft-tissue volume loss. There are two primary forms of injectables used in skin care, neurotoxins (such as Botox) and dermal fillers (such as Juvederm, Restalyne and others). Each category has distinct usages. Neurotoxins are injectable proteins that relax muscles and as a result soften lines and wrinkles, smoothing one's skin to help project a more youthful appearance. Neurotoxins such as Botox can also be used to reduce excess sweating as well as relieve migraines. Dermal fillers are a gel-like, naturally-occurring substance that is injected beneath the skin to increase volume, smooth the skin's surface and enhance facial features. Fillers may be used to increase lip volume, enhance shallow contours, soften wrinkles and even improve the appearance of scarring. Due to wide-spread usages and varying products, injectables offer many solutions to common skin issues. If you are new to injectables, contact Elan Skin for a complimentary consultation to help determine the best product(s) for your individual needs.
How does it work?
Injectables work in one of two ways. Neurotoxins (such as Botox) inhibit highly-localized communication between cells, blocking the neurotransmitter binding and causing the muscle to relax. As a result, muscles lose movement and skin appears more smooth (no more smile lines). Dermal fillers utilize a naturally-occurring substance in your body called Hyaluronic acid. In effect, these injectables boost the skin's supply of hyaluronic acid, adding volume in shallow areas and softening the appearance of lines and wrinkles.
In either instance, injectable procedures require little to no downtime and can be completed in a short visit, depending on the area(s) being treated. Botox injections last up to 4 months, while dermal fillers typically last from 6 to 12 months or even longer.
Candidates for Injectables
Injectables are widely used and almost anyone can benefit from injectable treatments. The right injectable for you depends on the severity of the skin issue you hope to address and your personal preferences. We recommend a consultation if you are unsure on the right approach for your needs. Injectables are not recommended if you are pregnant, breastfeeding, have certain skin conditions or have experienced allergic reaction to albumin in the past. Our highly skilled nurses are always happy to sit and answer any questions you may have.
Can Botox prevent wrinkles?
Botox targets the muscles of facial expression by blocking the nerve signals to those muscles. Because the majority of wrinkles are caused by repetitive movement of those muscles, Botox limits those expressions to potentially prevent wrinkles. Your skin will look much smoother and the appearance of fine lines and deep wrinkles will be greatly diminished.
What age should you be to use injectables?
Anyone over the age of 18 may be a candidate for injectables depending on personal preferences and goals. However, it is never too late to begin using injectables.
How long do cosmetic injectables last?
Dermal fillers may last anywhere from 6-12 months with some lasting up to 18 months. Botox injections can last up to 4 months.
Are there any side effects to Botox?
Side effects vary from person to person and depend on the area being treated. Some potential side effects include swelling or redness, eye irritation, slight headache or neck pain. Typically, any potential side effects are short-term and subside within a few days. If you ever have questions or concerns our team is available to consult.
Curious how to prepare for your Elan appointment? Curious about recommendations after your visit? See our Pre-Treatment and Post-Treatment Guides.
Customer Reviews on Google
Excellent experience every single visit. Accommodating, understanding, experienced aestheticians make you feel comfortable and well cared for. Masterful injectors tailor procedures to your specific wants and needs without taking away from natural beauty. Elan is the oldest Medspa in Nashville, and it truly is a great place for all things aesthetics!
I highly recommend Elan Skin for your skincare needs! It is a beautiful space and I am also greeted with a warm welcome. Beth is the absolute best and I trust her fully for all my skincare needs! I can't say enough good things about Elan!
I love Elan Skin so much ! The staff is great and I always feel amazing when I'm done with anything I get done from an eyebrow wax, a facial, Botox or filler. They make you feel your best!