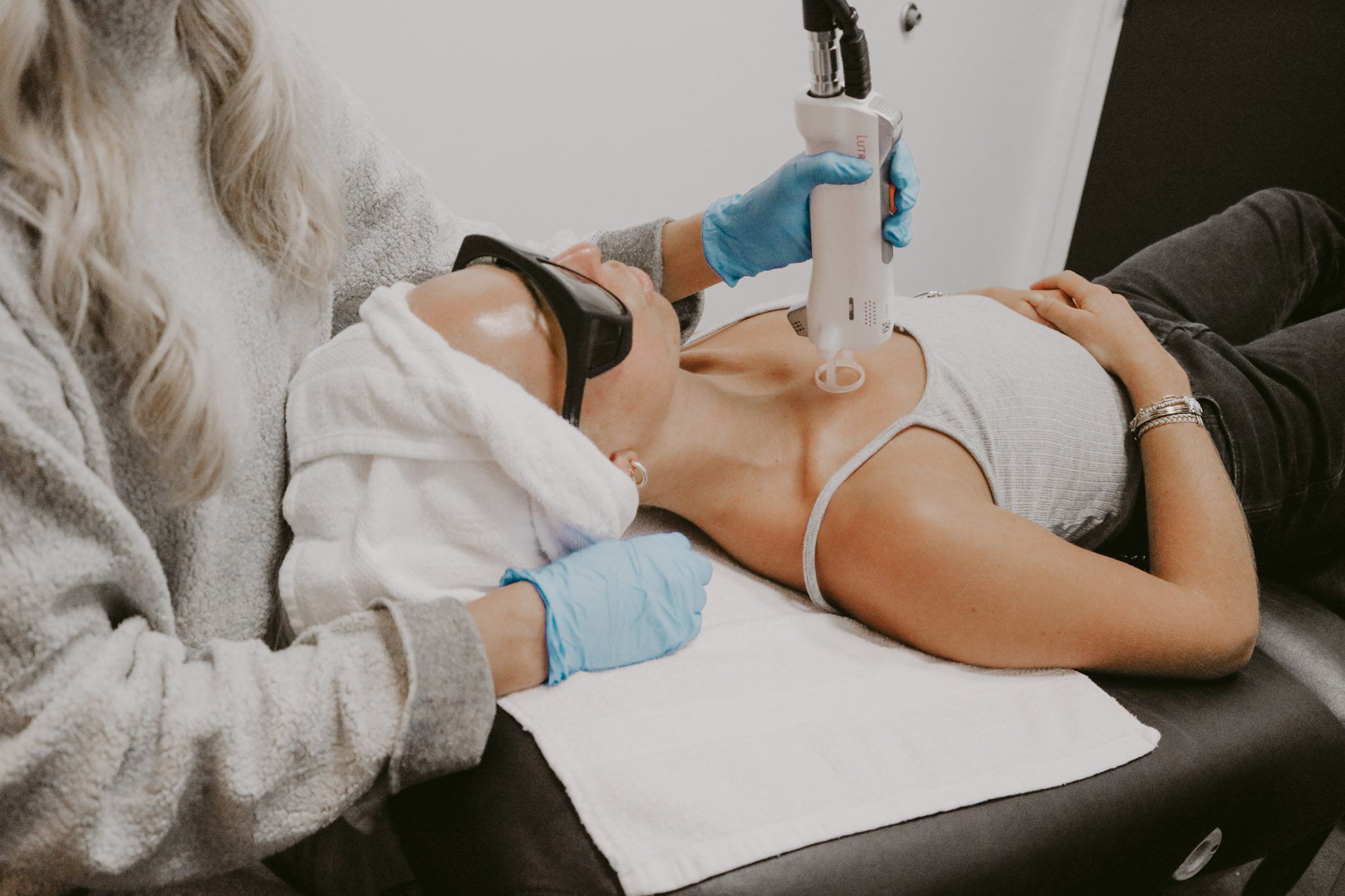 Laser For Face & Body
Pricing
IPL (intense pulse light) – $325+:

IPL primarily targets pigment and redness, although you will get a little collagen boost with this treatment. Downtime varies from little to none to 48 hrs.

MiXto Fractional Resurfacing with CO2 Laser – $2250:

This laser utilizes fractional resurfacing to aggressively treat more developed wrinkles as well as smokers lines and other advanced skin issues. MiXto is also exceptional in reducing acne, scars, excess pigment, and surface imperfections. This procedure safely and effectively eliminates visible signs of aging to dramatically improve skins overall tone and texture. Downtime: 7-10 days. We offer a MiXto Buff and Shine Treatment which incorporates just one pass of the laser to instantly brighten and shine the complexion for $950

Laser Hair Removal –

*only consultations can be booked online – to book a laser hair removal treatment please give us a call*
– Small Area (Lip, Chin, Underarm, Bikini): $100

– Medium Area (1/2 Leg, Back, Brazilian): $200

– Large Area (Full Leg): $300

This simple and non-invasive procedure targets highly concentrated light to a specific depth, ends results permanently destroy hair follicles to remove unwanted hair. The procedure is effective on hair with pigment and therefore, may not be suitable for blonde, grey or true red hair. Most clients see sustained hair reduction after 6 to 8 treatments. This extremely popular procedure is a safe, effective and speedy way for removing unwanted hair down to the follicle. Skin in the area treated may be red for 24hrs, but is easily treated with aloe vera. Sun exposure in areas treated should be avoided for one week prior and post treatment.

Purchase Laser Hair Removal as a package of 6 or more and receive a 15% discount.
What is Laser for Skin Care?
Lasers have varying usages in skin care. Lasers can be used to precisely target dirt, oil, pore size, scarring, pigmentation issues and as an instrument for smoothing skin. Lasers are also commonly used for hair removal due to the precision targeting and gentleness in comparison to waxing for hair removal. Lasers also vary in intensity and can be used to aggressively target areas of concern or approach with a lighter touch. For these reasons, lasers are a common tool utilized to improve a number of common skin care issues. Elan Skin provides a number of laser services, ranging in desired outcomes and intensity. Contact us today to find out the best service for your need.
How does it work?
Lasers in skin care are used for a variety of skin-related issues and range in intensity. Due to the range of laser services available for scarring, pigmentation and the removal of hair, there is no one size fits all in explaining how this treatment works. However, in essence, lasers use light and heat energy to precisely target problem areas to cause controlled damage, resulting in new skin growth. This process stimulates collagen production, the protein your body uses to grow new, healthy skin. In the case of hair removal, lasers utilize heat energy to precisely deaden the hair follicle, delaying future hair growth and leaving only fine hairs behind. Whatever the need, lasers are an effective tool for precisely targeted areas of concern and for that reason are a highly popular method for skin care improvements.
Candidates for Laser in Skin Care
Lasers have a plethora of usages for improving skin care and can be an effective, safe treatment for most people. In the case of laser hair removal, treatments are most effective on candidates with a contrast between their hair and skin color and may not be suitable for those with blonde, grey or true red hair. We offer laser hair removal for all skin types.
Do laser treatments hurt?
Elan laser treatments vary in intensity depending on the needs of the individual. In most cases, clients experience only mild discomfort which dissipates immediately after treatment. In some cases, clients may experience moderate discomfort due to the heat emanating from the laser. For more information on what to expect from the treatment, we recommend consulting with one of our skin care specialist prior to scheduling an appointment.
What are the primary benefits of laser skin care?
Laser light and heat has numerous skin benefits including the stimulation of collagen production, the smoothing of skin and the precise targeting of skin issues such as dirt, oil or pigmentation damage.
What are the primary benefits of laser for hair removal?
Laser hair removal is an effective treatment for controlled damage of the follicle and for delaying new hair growth. Laser hair removal is sometimes preferred to waxing due to the permanence it allows as well as the gentleness with which hairs are removed in comparison to waxing.
How many treatments are required?
The number of treatments depends on individual goals and the area being targeted. Elan believes generally that the best results are seen following multiple treatments. Please consult one of our skin care specialists to find out more about the number of recommended treatments we would suggest for your individual needs.
Do I need to shave before my laser hair removal appointment?
Yes. Shave 24-48 hours prior to your laser hair removal treatment.
Curious how to prepare for your Elan appointment? Curious about recommendations after your visit? See our Pre-Treatment and Post-Treatment Guides.
Customer Reviews on Google
Excellent experience every single visit. Accommodating, understanding, experienced aestheticians make you feel comfortable and well cared for. Masterful injectors tailor procedures to your specific wants and needs without taking away from natural beauty. Elan is the oldest Medspa in Nashville, and it truly is a great place for all things aesthetics!
I highly recommend Elan Skin for your skincare needs! It is a beautiful space and I am also greeted with a warm welcome. Beth is the absolute best and I trust her fully for all my skincare needs! I can't say enough good things about Elan!
I love Elan Skin so much ! The staff is great and I always feel amazing when I'm done with anything I get done from an eyebrow wax, a facial, Botox or filler. They make you feel your best!