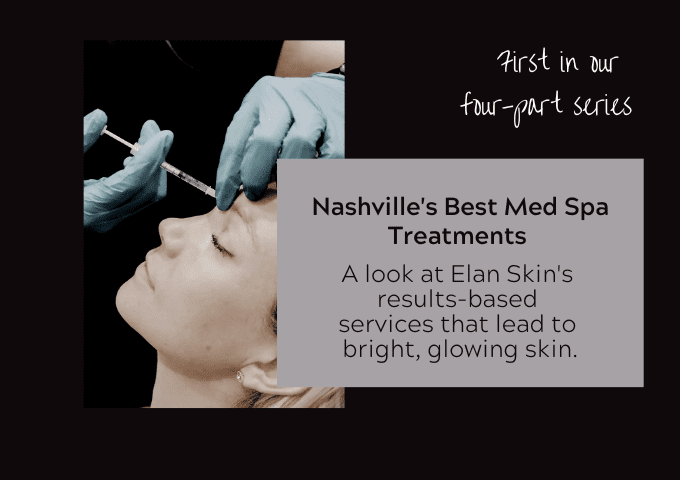 If you are looking for a Med Spa in Nashville, Tennessee, look no further than Elan Skin. We offer Nashville's best med spa treatments to help you look and feel your best. Whether you are looking for a facial, Botox, or laser hair removal, we have the perfect treatment for you.
In this series of articles, we are going to take a look at the types of services you will find at Elan Skin. Since we opened our doors in 2004 as one of the first medical spas in Nashville, our goal has always been to help you feel more confident about your skin and our expert service providers are well positioned to do this with over 150 years of combined experience. Visit us and learn why we have been voted one of Nashville's best skin centers by Nashville Scene time and time again.
Injectables
What are Injectables for Skin Care?
Injectables for skin care are highly popular procedures to help relax facial muscles or rejuvenate and enhance soft-tissue volume loss. There are two primary forms of injectables used in skin care: neurotoxins (such as Botox) and dermal fillers (such as Juvederm, Restalyne and others). Each category has distinct usages. Neurotoxins are injectable proteins that relax muscles and, as a result, soften lines and wrinkles, smoothing one's skin to help project a more youthful appearance. Neurotoxins such as Botox can also be used to reduce excess sweating as well as relieve migraines. Dermal fillers use a gel-like, naturally occurring substance that is injected beneath the skin to increase volume, smooth the skin's surface and enhance facial features. Fillers may be used to increase lip volume, enhance shallow contours, soften wrinkles and even improve the appearance of scarring. Due to widespread usages and varying products, injectables offer many solutions to common skin issues. If you are new to injectables, contact Elan Skin for a complimentary consultation to help determine the best product(s) for your individual needs.
How does it work?
Injectables work in one of two ways. Neurotoxins (such as Botox) inhibit highly-localized communication between cells, blocking the neurotransmitter binding and causing the muscle to relax. As a result, muscles lose movement and skin appears more smooth (no more smile lines). Dermal fillers utilize a naturally occurring substance in your body called hyaluronic acid. In effect, these injectables boost the skin's supply of hyaluronic acid, adding volume in shallow areas and softening the appearance of lines and wrinkles.
In either instance, injectable procedures require little to no downtime and can be completed in a short visit, depending on the area(s) being treated. Botox injections can last up to 4 months, while dermal fillers typically last from 6 to 12 months or even longer.
Microneedling
What is Microneedling?
Microneedling is a minimally invasive treatment for improving texture, pore size, fine lines and firmness of the skin. The primary procedure involves the use of 0.5-2.5 mm needles that create micro-traumas to breach your outer-most layer of skin. As a result of these controlled pin-pricks, your body reacts by producing collagen, an important protein for your skin's structural health. Microneedling treatments can help improve signs of aging, sun damage, scarring and other similar skin issues.
Radiofrequency (RF) microneedling with our Vivace machine combines microneedling techniques with radio frequency and light therapy to further stimulate and repair skin. This non-surgical approach produces the same benefits as regular microneedling along with greater tightening of skin and with less downtime.
How does it work?
Our Elan microneedling treatments always begin with dermaplaning. During your treatment, tiny needles are used to create controlled micro-traumas to the skin in order to produce collagen and elastin for the treatment of fine lines, acne scars, and improvement of the skin's texture, tone, and color. These channels allow for topical gels, creams, and serums to be absorbed more effectively, enhancing their effects in deeper layers of the skin.
HydraFacial
What is a HydraFacial?
HydraFacials are an extremely popular treatment to cleanse, exfoliate and infuse skin with intensive serums utilizing medical grade products such as SkinCeuticals, ZO Skin Health and others. This treatment is highly customizable and may be used to address skin concerns such as brown spots, acne, hyperpigmentation, wrinkles and more. HydraFacials involve a specialized device that simultaneously cleans out pores and stimulates the skin with select products depending on individual goals and needs. Targeted add ons are available depending on your concerns and desires.
How does it work?
HydraFacials incorporate a 3-step process to deliver a quick and gratifying glow. The first step in the process begins with a tool that gently opens pores and removes superficial debris from the skin. The next step involves deeper extraction of debris that are more stubborn and clog facial pores. In this step, a specially designed vacuum tool is used to gently suction stubborn areas vs a pointed tool used in similar procedures. Once the skin is prepped, cleaned and extracted of dirt and oils, we use HydraFacial to infuse customized products that help minimize common skin concerns. In as little as 30 minutes, you can simultaneously deeply clean, extract and infuse your skin for near instantaneous results.
DiamondGlow
What is a DiamondGlow?
Your skin will sparkle! DiamondGlow is an innovative facial treatment that exfoliates, extracts, and infuses your skin with nourishment-rich serums. This 3-in-1 process removes debris to renew your skin, deeply cleanses pores and enhances luminosity and clarity beyond anything you've experienced with a typical facial treatment. Serums used in the process can be customized to your specific goals and skincare concerns. DiamondGlow represents the next level in skin resurfacing technology and provides both immediate and long-lasting results.
While you will see the difference after just one treatment, DiamondGlow works even better after multiple visits, as the treatment and serums used have a multiplying effect.
How does it work?
One of the greatest advantages is DiamondGlow's 3-step process that delivers immediate, superior results. The first step in the process is to apply steam to open pores and cleanse the face. Once your skin is ready, your aesthetician will apply the DiamondGlow wand to simultaneously extract, exfoliate, and infuse the skin with the customized serum of your choice. Available serums include Skin Brightening, Ultra Hydrating, Vitamin C, Pore Clarifying and SkinMedica's signature TNS Advanced+. The entire process requires no downtime and is typically completed in just one 30-minute sitting. Following just one treatment, your skin will appear brighter, fresher, smoother and, most importantly, healthier.
PRP
What is PRP?
PRP stands for Platelet-Rich Plasma and is a skin care therapy that uses your own plasma to promote hair growth, brighten the under-eye area, soften scarring, and yield soft, supple skin. PRP utilizes an increased concentration of autologous platelets suspended in a small amount of plasma. This highly concentrated plasma contains several natural growth factors (over 30 bioactive proteins) that can be injected into skin to promote collagen production and repair damaged tissue. PRP has commonly been used on athletes to speed up healing and has gained its reputation as liquid gold with research backing to show improvement in fine lines and wrinkles, hair loss, texture and scarring. Elan Skin utilizes PRP for:
Hair loss—PRP has been shown to reinvigorate dormant hair follicles and stimulate new hair growth in male pattern alopecia.

Facial rejuvenation–PRP injections can treat wrinkles, photo-damage and discoloration in conjunction with other treatment modalities.
How does it work?
PRP is a minimally invasive procedure that involves isolating regenerating platelets from your own blood cells and, in turn, using this platelet-rich plasma to heal the body. The process begins by drawing blood from the patient. This sample is then placed in a centrifuge and spun to separate red and white blood cells from the plasma. This concentrated plasma is rich with platelets that contain rejuvenating factors and play a natural role in the body's regular healing process. Once these platelets have been separated, they can then be injected into damaged tissue to help it heal.
PRP has been shown to be an effective treatment for hair loss and as a general skin therapeutic. PRP may also be used to repair damaged muscles and tendons in athletes. Typically, PRP involves 4-6 sessions and maximum effects are usually seen after 6 to 9 months.
Healthier Skin. More Confident You.
If you're looking for a way to improve your skin without surgery or down time, then injectables, microneedling, HydraFacial, DiamondGlow, and PRP might be for you. These procedures can help with everything from wrinkles and fine lines to scarring and hair loss. To find out which is right for you, schedule a consultation at Elan Skin online or by phone-615.814.4999 You'll be glad you did.