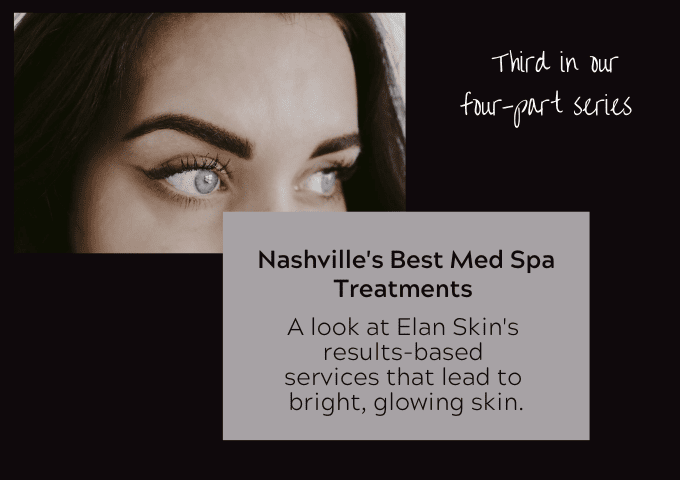 Elan Skin and Laser is the premier Med Spa in Nashville. Since 2004, we have been providing world-class aesthetics and skin services , and have been repeatedly praised by Nashville Scene as one of Nashville's most popular providers in the skincare industry.
Waxing
What is Waxing?
Waxing is a very popular and widely used method for semi-permanent hair removal. As the name implies, the process involves the use of wax to remove hair from the root, leaving smooth, hair-less skin in its place. Depending on the individual and area of the body, waxing results typically last 3 to 6 weeks and can be done on almost any part of the body, including face, eyebrows, bikini area, legs, arms, back, chest, and feet. Waxing also rejuvenates the skin, removes dead skin cells and is a great exfoliation process.
How does it work?
At Elan Skin, high-quality warm wax is applied and smoothed over your target area. As the wax comes into contact with skin, it will cool and harden, and in the process, firmly attach to the hair follicles where it is applied. The wax is then removed in the opposite direction of hair growth to leave smooth, hairless skin behind. As is often the case, you may feel slight irritation when the wax is removed, but this sensation subsides almost immediately.
Threading
What is Threading?
Threading is a hair removal technique used to shape your eyebrows. Originating in the far East, the process involves "threading" of string through the eyebrows to remove hair and define the eyebrows. Threading is a favored method of shaping eyebrows due to its precision and because it is considered the most gentle way to groom eyebrow hairs. Clients may experience a light tugging sensation, but generally do not experience pain. Much like waxing, results will typically last 2-4 weeks.
How does it work?
Threading is a very simple procedure. It involves a cotton thread being twisted through the eyebrow to remove hairs. The process of threading is much more accurate than tweezers for defining eyebrow shape. Threading is very precise, moving hair by hair, to shape eyebrows for a highly defined look.
Brow + Lash Services
We offer a variety of brow and lash services at Elan Skin and Laser. Choose from tinting to lamination to lifts or combine them!
What is Tinting?
Tinting is a process that involves the application of semi-permanent dye to enhance, define, and shape your brows and lashes. The process improves the appearance of brows and lashes, making them thicker and more youthful. As a part of the process, your skincare specialist will evaluate your natural hair color and tint your brows and lashes to match as closely as possible.
How does it work?
Tinting is a fairly quick procedure. First, you will consult with your skincare specialist to discuss desired fullness. Brows and (or) lashes will then be cleaned and prepped with petroleum jelly to prevent any staining of the skin. A carefully mixed dye to reflect your natural hair color is then applied and left in place for a few minutes to obtain optimal color.
What is Brow Lamination?
Brow lamination is a process of creating fuller, fluffier brows. This is a great service if you are looking for a 'fluffy' brow without the need for a brow gel, or if your natural brow hairs are curly, unruly, or point downwards.
How does it work?
Brow Lamination is the process of using a gentle perm solution, neutralizing lotion, and moisturizing treatment to temporarily relax and redirect your brow hairs upwards and into place. Because the hairs are relaxed, they appear longer, giving the effect of a fuller brow shape. Once treated with the solutions, the lifted and laminated brows can be groomed by waxing, tweezing, and even tinting to perfection by styling and enhancing their new shape.
What is a Lash Lift?
A lash lift is a semi-permanent lift and curl of your natural lashes, much like a perm. By bending your natural lashes over a curved silicone shield and applying a perming solution, a lash technician can set the shape of your natural lashes into an upward and realistic curl.
A lash lift is not suitable for anyone with:
Very short lashes or no lashes at all

Extremely sensitive skin

Skin allergies
How does it work?
The Lash Lift is a semi-permanent eyelash treatment that curls and lifts natural eyelashes without the side effects of the traditional lash perm  – burning, stinging, and turning red.  The Lash Lift offers a longer-lasting, less- messy result that is similar to the one provided by the eyelash perm. 
The procedure is quick and relatively simple and takes about 30-45 minutes from the beginning to the end. Your lashes will first be cleaned and a silicon rod will be placed down your upper lash line. Next, a lifting solution will be applied to your lashes and left for a couple of minutes. A neutralizing solution will follow and remain on your lashes for a couple of minutes. You will be able to see the results immediately after the procedure is finished.
Light Therapy
What is Light Therapy?
Light therapy is a popular treatment due to its broad usage for improving sun damage, acne, dermatitis, rosacea, eczema, psoriasis and general skin radiance. Expect to see a decrease in the appearance of skin pigment and vessels and a more even skin tone. 
Light therapy is a non-invasive cosmetic treatment that uses narrow band, non-thermal LED light to accelerate rejuvenation and repair skin cells. Results will progress over days/weeks after treatment. It's a popular treatment due to its broad usage for improving sun damage, acne, dermatitis, rosacea, eczema, psoriasis and general skin radiance. 
How does it work?
Light therapy is an extremely relaxing method of promoting healthier skin. All you really have to do is lay back, and let the light do its magic. The core of the procedure involves specialized light energy being focused on the skin to increase collagen production as well as elevate ATP production in the cells of your skin. Collectively, this has many benefits, including reduced swelling, improved circulation, increased cell energy and anti-aging benefits.
Microdermabrasion
What is Microdermabrasion?
Microdermabrasion is a noninvasive cosmetic procedure in which the top layer of skin is removed to rejuvenate and promote new, healthy skin growth. This treatment can be helpful for improving light scarring, discoloration, sun damage and even stretch marks. It involves: 
The removal of dead, dull, sun-drenched skin

Preps skin to receive deeper hydration from masks and moisturizers

There is no increased sun sensitivity from treatment

Provides instant glow and primes skin for even makeup application
How does it work?
At Elan, our microdermabrasion procedure begins with your aesthetician utilizing our microdermabrasion device, which rubs fine crystals onto the skin. This process gently exfoliates the outermost layer of skin, essentially removing the top layer to promote healthier skin. Most clients do not report any pain from the procedure itself, but there may be slight swelling and redness for a few days following the treatment. To combat any side-effects, your skin care specialist will apply moisturizer at the conclusion of the treatment and provide a home skin care regimen. Many clients will notice results immediately following the procedure, though multiple treatments are recommended to deliver maximum results.
Microdermabrasion Treatment at Elan Skin and Laser
Results are enhanced with Elan's custom process of cleansing and massaging a Vitamin C and enzyme mask into the skin. You will then relax with a warm towel followed by a medical grade moisturizer and SPF. This treatment has long been a client favorite and one we love and believe in.
With all of these amazing services, is it any surprise that we can't pick a favorite procedure?
If you're looking for a way to improve your skin care routine, consider adding one of these treatments to your list of options. At Elan, we offer microdermabrasion, light therapy, and a variety of other services to help you achieve healthier, more youthful-looking skin. Call us at 615.814.4999, or go online today to schedule your appointment for a free consultation where you'll  learn more about how we can help you achieve your goals.