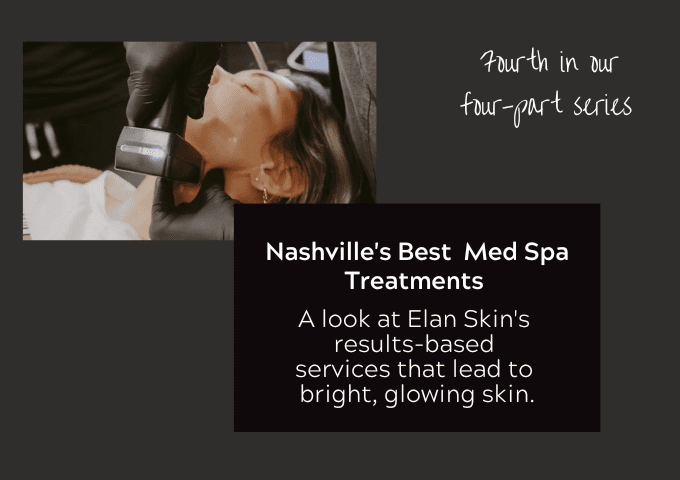 Here we are – the fourth in our four-part series on Nashville's best Med Spa treatments at Elan Skin and Laser, Nashville. We have a few more things we want to cover, so let's dive right in!
Morpheus8
What is Morpheus8?
Morpheus8 is fractionated radio frequency microneedling—a new generation collagen and skin remodeling treatment for face and body. It's a safe, effective, and non-surgical treatment for full body skin resurfacing, skin tightening, and fat reduction of stubborn areas. 
What does Morpheus8 do?
Using targeted radio-frequency (RF) energy to remodel and rebuild collagen, Morpheus8 can be used to treat skin concerns on both the face and body, including the abdomen, legs, buttocks, arms, hands, jowls, chest, and neck. The resulting effect is plumper, firmer, tighter, and smoother skin in as few as 1 to 2 sessions.
Tiny needles penetrate the skin with targeted depth and heat up the tissue using RF with targeted energy to stimulate collagen or mold fat under the skin to obtain results for tightening and lifting the skin or contouring the sub-mental or other body areas. 
In addition to skin tightening, the Morpheus8 is FDA approved as a Subdermal Adipose Remodeling Device (SARD) and is the first and only device to diminish fat in delicate areas. It is great for melting away extra fat underneath the chin and can even target larger areas such as cellulite on the thighs and buttock. Postpartum abdominal laxity is another area that the Morpheous8 can improve–similar to a "mommy make-over" without the surgical downtime!
How does it work?
Before your treatment, topical numbing will be applied to cleansed skin. This is to minimize discomfort during the treatment process. During the procedure, a handheld device is pressed into the specified area of the skin, allowing microneedles to perforate the skin.
Once the microneedles are in place, they generate radiofrequency (RF) waves to penetrate deep into the dermal layer. Since the needles are tiny, most patients tolerate the procedure well. This simple, safe treatment delivers excellent results for all skin types. You can expect mild redness and swelling immediately post procedure, which tends to subside within 2-3 days.
Results are generally seen a month after treatment, with continued improvement over time and with subsequent Morpheus8 treatments.
Laser For Face & Body
What is Laser for Skin Care?
Lasers have varying usages in skin care. Lasers can be used to target dirt, oil, pore size, scarring, pigmentation issues and as an instrument for smoothing skin. Lasers are also commonly used for hair removal due to the precision targeting and gentleness in comparison to waxing for hair removal. Lasers also vary in intensity and can be used to aggressively target areas of concern or approach with a lighter touch. For these reasons, lasers are a common tool utilized to improve a number of common skin care issues. Elan Skin provides a number of laser services, ranging in desired outcomes and intensity. Contact us today to find out the best service for your needs.
IPL (intense pulse light)
IPL primarily targets pigment and redness, although you will get a little collagen boost with this treatment. Downtime varies from little to none to 48 hrs.
MiXto Fractional Resurfacing with CO2 Laser
This laser utilizes fractional resurfacing to aggressively treat more developed wrinkles as well as smokers lines and other advanced skin issues. MiXto is also exceptional in reducing acne, scars, excess pigment, and surface imperfections. This procedure safely and effectively eliminates visible signs of aging and dramatically improves skin's overall tone and texture. Downtime: 7-10 days. We also offer a MiXto Buff and Shine Treatment, which incorporates just one pass of the laser to instantly brighten and shine the complexion,
Laser Hair Removal
This simple and non-invasive procedure targets highly concentrated light to a specific depth, permanently destroying hair follicles to remove unwanted hair. The procedure is effective on hair with pigment and therefore, may not be suitable for blonde, gray or true red hair. Most clients see sustained hair reduction after 6 to 8 treatments. This extremely popular procedure is a safe, effective and speedy way for removing unwanted hair down to the follicle. Skin in the area treated may be red for 24hrs, but is easily treated with aloe vera. Sun exposure in areas treated should be avoided for one week prior and post treatment.
Purchase Laser Hair Removal as a package of 6 or more, and receive a 20% discount.
How does it work?
Lasers in skin care are used for a variety of skin-related issues and range in intensity. Due to the range of laser services available for scarring, pigmentation and the removal of hair, there is no one size fits all in explaining how this treatment works. However, in essence, lasers use light and heat energy to target problem areas to cause controlled damage, resulting in new skin growth. This process stimulates collagen production, the protein your body uses to grow new, healthy skin. In the case of hair removal, lasers utilize heat energy to deaden the hair follicle, delaying future hair growth and leaving only fine hairs behind. Whatever the need, lasers are an effective tool for precisely targeted areas of concern and, for that reason, are a highly popular method for skin care improvements.
Coolsculpting
What is Coolsculpting?
The Coolsculpting procedure eliminates stubborn fat safely and effectively, without surgery or downtime. This fat reduction treatment is the only FDA-cleared procedure to use controlled cooling to safely target and eliminate diet- and exercise-resistant fat. Coolsculpting results are proven, noticeable, and lasting, so you'll look and feel great from every angle. Freeze away fat? It comes down to science. Fat cells freeze at higher temperatures than surrounding tissues. Coolsculpting technology safely delivers precisely controlled cooling to gently and effectively target the fat cells underneath the skin. The treated fat cells are crystallized (frozen), and then die. Over time, your body naturally processes the fat and eliminates these dead cells, leaving a more sculpted you.
How does it work?
First, your technician will measure and photograph the area that you've selected. Applicator is then attached to both the treatment area and the cooling device. After the unwanted fat is frozen and crystalized, it will appear like a three-dimensional rectangle under the skin. Your technician will remove the applicator and massage the treatment area to break up the crystals or employ radio waves for a more thorough result. Through either process, the broken-up fat cells become absorbed by the body and eliminated as waste products.
One of the greatest advantages to Coolsculpting is that it is a non-surgical procedure that typically only involves 35 minutes for a single area.
Why choose Med Spa Elan Skin and Laser?
Our Memberships
About Elan Membership
Glowing skin and healthy, vibrant hair demands regular care. We see it all the time and know that our clients achieve their best results through routine visits and a dedicated approach to achieving their goals.
At Elan Skin, we value our clients and want to thank you by offering two amazing membership options to help you save year-round on all our most popular services and products. Choose from monthly or annual packages and enjoy discounts on Botox, HydraFacials, Microneedling and more.
Our clients love our services. Now, you can love them for less. Contact Elan at 615-814-4999 to sign up today.
Alle Rewards
Earn and use Alle Rewards at Elan Skin and Laser. Save on your favorite in-office products & treatments. Professional-grade skincare. Facial injectables. Cellulite treatments. You name it. Allē gives you points on over 50 products and treatments at participating dermatologists, plastic surgeons, and med spas.
How Allē works
Earn points on Allē Brands, as well as a variety of other in-office products and treatments like microdermabrasion, laser hair removal, and more. When you're ready to use your points, just let your provider know you're an Allē Member and they'll redeem them from your Allē Wallet. Every 100 points earns you $10 in savings toward a future Allē product or treatment.
Bonus tip: Allē gives you points on Allē Brands, as well as a variety of other in-office products and treatments like laser hair removal, and skincare purchases. Yes, even on products and treatments that are not an Allē Brand.
Aspire Rewards
As a member, you'll earn points on qualifying treatments with Galderma brands as well as select partner brands. Redeem your points for savings on future Galderma aesthetic treatments that support your aesthetics goals.
JOIN FOR FREE: The perks and benefits start immediately. Your membership begins with special welcome savings.

EARN POINTS: Earn points with qualifying Galderma brands and ASPIRE partner brands.

GET REWARDS: Every 100 points = $10 of valuable savings on more of the treatments you know and love.
Online Shopping
Keep your skin in amazing shape! Elan carries some of the best skin care products available anywhere. Free shipping on all online orders and Curbside Pick Up available. Shop online or in our Green Hills location.
At Elan Skin and Laser, we offer a variety of services that can help you look and feel your best. Whether you're looking for laser hair removal, Coolsculpting, or LED Light Therapy, we have the experience and expertise to help you achieve the results you desire. We are committed to providing our clients with the best possible experience, and our staff is always available to answer any questions you may have. Contact us today to schedule a consultation and see how we can help you achieve your goals!
Elan Skin opened its doors in 2004 as one of the first medical spas in Nashville. Our goal is to help you feel more confident about your skin and our expert service providers are well positioned to do this with over 150 years of combined experience. Visit us and learn why we have been voted one of Nashville's best skin centers by Nashville Scene time and time again.