Plasma IQ – $500+:
Plasma IQ is a new and novel approach to improve the signs of aging, tighten skin and minimize lines and wrinkles through precisely targeted plasma energy. Plasma IQ is available in two energy levels to safely target multiple areas of the body including the lips, checks and eyes.
What is a Plasma IQ?
Regain your youthful appearance without surgery and extended downtime. Plasma IQ is the first FDA Class II device cleared to deliver targeted plasma energy to renew and tighten skin. This non-surgical procedure may be used to address sagging or loose skin around the eyes, lips and cheeks.
Plasma IQ results are immediately noticeable, however improved results are typically seen after 3 – 6 weeks. Most clients will experience superior results following multiple treatments, typically spaced 6 weeks apart.
How does it work?
Plasma IQ is a breakthrough therapy for addressing loose and sagging skin through controlled micro-injuries and highly advanced plasma technology. While the science may seem complex, the procedure is quite straight-forward. In essence, a Plasma IQ pen ionizes nitrogen gas particles in the air to create a plasma arc. When the Plasma IQ device is brought near the skin, the plasma arc interacts with the epidermis, causing sublimation and inducing an immediate tightening of the skin and constriction in the targeted area.
As a part of the procedure, micro-injuries to the surface of the skin can be seen in the treated area and will typically persist for approximately one week following the treatment. These micro-injuries continue to promote skin firming as the body natural heals from the procedure. Results are immediately noticeable, but improved results are typically achieved after 3 – 6 weeks. Multiple treatments have been shown to improve the length of results and maximize outcomes.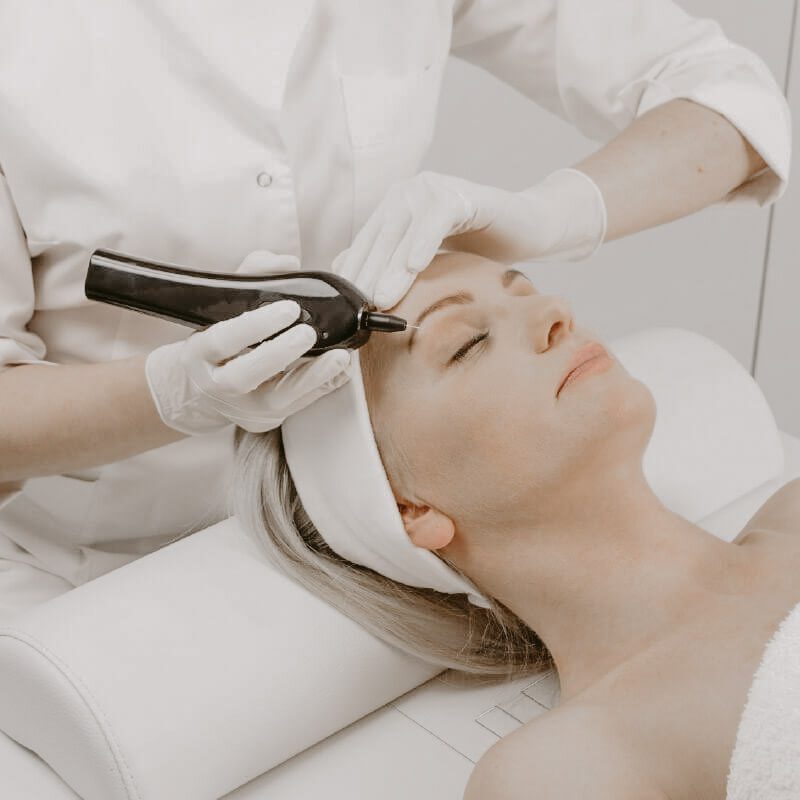 Candidates for Plasma IQ
Elan recommends consulting with one of our trained nursses prior to booking an appointment.
Does Plasma IQ hurt?
A local anesthetic cream is applied to minimize discomfort during the procedure itself and as a result, clients typically will experience little-to-no pain. Some discomfort in the form of a burning or tingling sensation is common post procedure but is usually minimal.
What are the primary benefits of Plasma IQ?
Plasma IQ is an advanced, non-surgical approach to tighten skin and minimize the signs of aging. The primary benefits include immediate, noticeable results, low side-effects and minimal down-time when compared with surgical options to address loose and sagging skin.
How many treatments are required?
Treatment regimens vary depending on the individual and the area being addressed. We encourage you to contact our office at 615-814-4999 to discuss the right approach and number of treatments recommended to maximize your results.
Curious how to prepare for your Elan appointment? Curious about recommendations after your visit? See our Pre-Treatment and Post-Treatment Guides.
Customer Reviews on Google
Excellent experience every single visit. Accommodating, understanding, experienced aestheticians make you feel comfortable and well cared for. Masterful injectors tailor procedures to your specific wants and needs without taking away from natural beauty. Elan is the oldest Medspa in Nashville, and it truly is a great place for all things aesthetics!
I highly recommend Elan Skin for your skincare needs! It is a beautiful space and I am also greeted with a warm welcome. Beth is the absolute best and I trust her fully for all my skincare needs! I can't say enough good things about Elan!
I love Elan Skin so much ! The staff is great and I always feel amazing when I'm done with anything I get done from an eyebrow wax, a facial, Botox or filler. They make you feel your best!