Post-Treatment Guide For DiamondGlow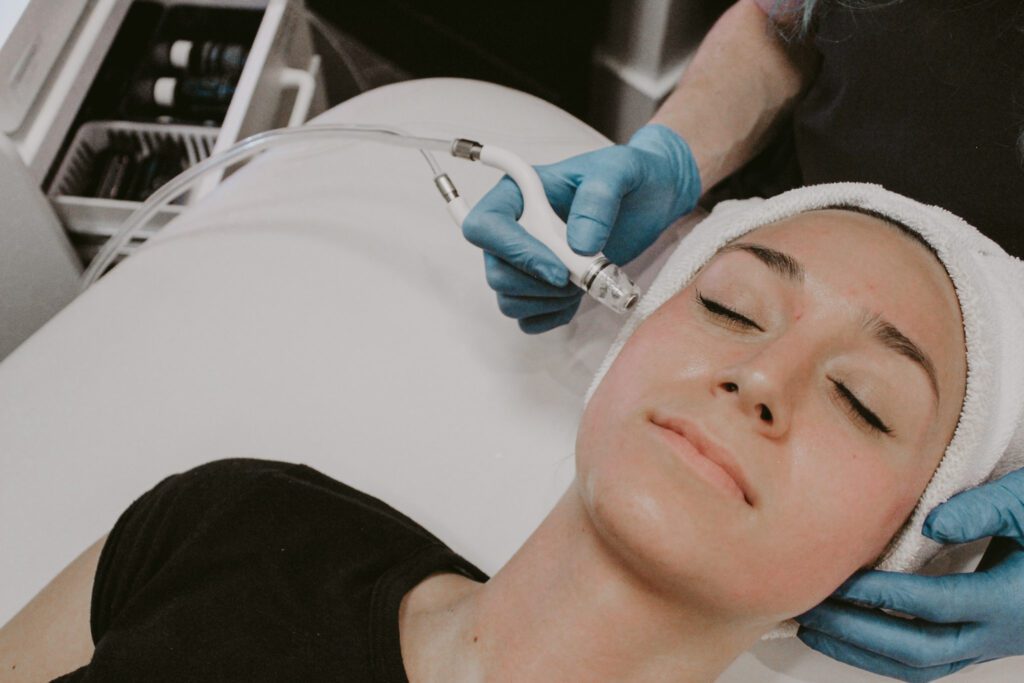 What To Expect After Your DiamondGlow Procedure
After undergoing the DiamondGlow procedure at our med spa, here's what you can expect during the post-treatment phase:
Immediate Effects: Following the DiamondGlow procedure, you may experience some immediate effects, including mild redness and slight sensitivity in the treated area. These effects are typically temporary and should subside within a few hours.
Hydration and Radiance: DiamondGlow utilizes a patented diamond tip and vacuum technology to exfoliate the skin while simultaneously infusing it with customized serums. After the procedure, you can expect your skin to feel hydrated, nourished, and visibly radiant.
Smooth and Glowing Skin: DiamondGlow helps to improve the appearance of uneven skin texture, clogged pores, and dullness. You may notice that your skin feels smoother, with a more even tone and texture, immediately after the treatment.
No Downtime: One of the advantages of DiamondGlow is that it requires no downtime. You can resume your daily activities immediately after the procedure, without any significant restrictions.
After the procedure, you can expect your skin to feel hydrated, nourished, smoother, and visibly radiant.
When Should I Expect to See Results?

The timeline for seeing results after the DiamondGlow procedure can vary depending on individual factors and the specific concerns being addressed. Here is a general guideline:
Immediate Glow:Many clients may notice an immediate improvement in their skin's appearance, with a noticeable glow immediately after the DiamondGlow treatment. Your skin will feel refreshed and rejuvenated right away.
Progressive Results: The full benefits of DiamondGlow are often seen over time, with cumulative effects. With each treatment session, you can expect to see a further improvement in skin tone, texture, and overall radiance.
Multiple Sessions: To achieve optimal and long-lasting results, a series of DiamondGlow treatments is often recommended. The number of sessions required will depend on your specific skin concerns and goals. Our expert service providers will work closely with you to develop a personalized treatment plan.
Our goal at Elan Skin is to help you feel more confident about your skin. Our expert service providers, with over 150 years of combined experience, are well-positioned to achieve this. We have been consistently voted one of Nashville's best skin centers by Nashville Scene, demonstrating our commitment to excellence.
With a wide range of lasers and technologies, we can address the issues you want to target. Our DiamondGlow procedure is just one example of the many effective treatments we offer. Visit us at Elan Skin and experience our exceptional services firsthand. Our knowledgeable professionals will guide you through the DiamondGlow treatment, tailoring it to your unique needs. Discover why we have earned the trust and recognition of our clients in Nashville.
Customer Reviews on Google
Excellent experience every single visit. Accommodating, understanding, experienced aestheticians make you feel comfortable and well cared for. Masterful injectors tailor procedures to your specific wants and needs without taking away from natural beauty. Elan is the oldest Medspa in Nashville, and it truly is a great place for all things aesthetics!
I highly recommend Elan Skin for your skincare needs! It is a beautiful space and I am also greeted with a warm welcome. Beth is the absolute best and I trust her fully for all my skincare needs! I can't say enough good things about Elan!
I love Elan Skin so much ! The staff is great and I always feel amazing when I'm done with anything I get done from an eyebrow wax, a facial, Botox or filler. They make you feel your best!