Post-Treatment Guide For Morpheus8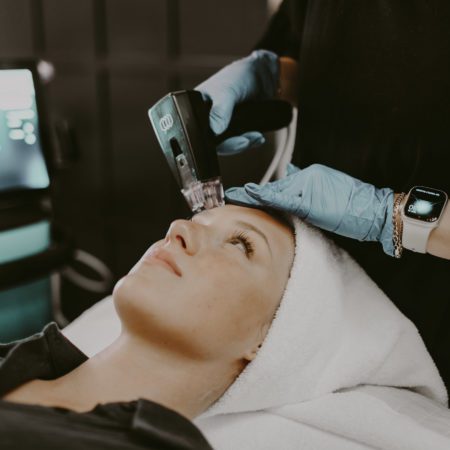 What to Expect After Your Morpheus8 Procedure
Morpheus8 treatment is a non-invasive procedure so there is little need for downtime or recovery.
You can expect mild redness and swelling immediately post procedure which tends to subside within 2-3 days.
Skin my feel warm to the touch.
As it heals, skin may crust or peel for up to a week.
Post Treatment Instructions:
Continue with a hydrating regimen. We recommend hyaluronic acid or a hydrating serum.
Wear a good physical sunscreen with SPF 30 or above daily.
Avoid extreme and/or prolonged sun exposure for 7-10 days.
Avoid retinol and glycolic/chemical exfoliants for a week to ten days.
You may start using a physical exfoliant after a full three days (72 hours.)
To aid the healing process, avoid exercising or strenuous activity for 24 hours post-treatment.
Do not apply makeup until 48 hours after the procedure.
Following your treatment, use a soothing cleanser or face wash with lukewarm water to wash your face and follow up with a gentle moisturizer or healing ointment.
You can resume work or normal activities directly following treatment.
When Should I Expect to See Results?
Results are generally seen a month after treatment with continued improvement over time while new collagen is forming. You will see optimal results after 3 or 4 Morpheus8 treatments.
Our goal is to help you feel more confident about your skin and our expert service providers are well positioned to do this with over 150 years of combined experience. With a broad array of lasers and technologies, we can help you with the issues you want to address. Visit us and learn why we have been voted one of Nashville's best skin centers by Nashville Scene time and time again.
Customer Reviews on Google
Excellent experience every single visit. Accommodating, understanding, experienced aestheticians make you feel comfortable and well cared for. Masterful injectors tailor procedures to your specific wants and needs without taking away from natural beauty. Elan is the oldest Medspa in Nashville, and it truly is a great place for all things aesthetics!
I highly recommend Elan Skin for your skincare needs! It is a beautiful space and I am also greeted with a warm welcome. Beth is the absolute best and I trust her fully for all my skincare needs! I can't say enough good things about Elan!
I love Elan Skin so much ! The staff is great and I always feel amazing when I'm done with anything I get done from an eyebrow wax, a facial, Botox or filler. They make you feel your best!