Post-Treatment Guide For PRP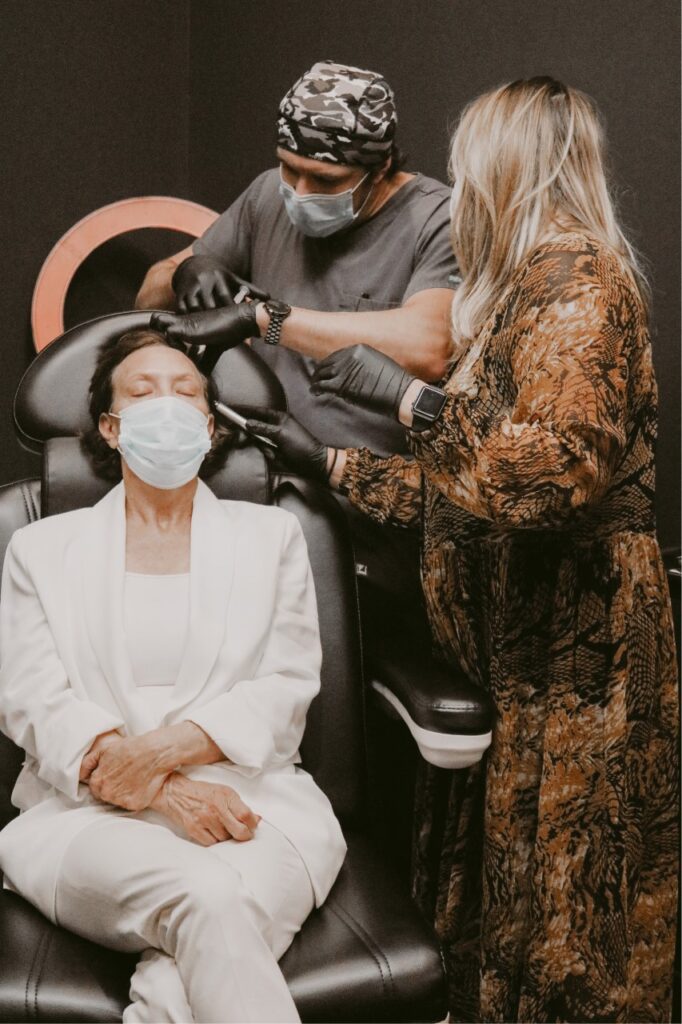 What To Expect After Your PRP Procedure
After undergoing the PRP (Platelet-Rich Plasma) procedure at our med spa, here's what you can expect during the post-treatment phase:
Mild Discomfort: Following the PRP procedure, you may experience mild discomfort at the injection sites. This discomfort is usually minimal and can be managed with over-the-counter pain relievers, if necessary. Swelling and redness at the injection sites are also common and should subside within a few days.
Healing and Recovery: PRP treatment involves using your body's own platelet-rich plasma to promote healing and rejuvenation. The injected platelets work to stimulate collagen production and improve tissue regeneration. You may notice an initial improvement in your skin's texture and appearance as the healing process takes place.
Avoidance of Certain Activities: To ensure optimal healing, it is recommended to avoid activities that may put unnecessary strain on the treated area, such as vigorous exercise, swimming, or excessive sun exposure. Your healthcare provider will provide you with specific instructions on post-procedure care.
Multiple Sessions: Depending on your individual goals and the specific concern being addressed, multiple PRP sessions may be recommended. These sessions are typically spaced several weeks apart to allow for optimal results.
When Should I Expect to See Results?

The timeline for seeing results after the PRP procedure can vary depending on individual factors and the specific concerns being addressed. Here is a general guideline:
Gradual Improvement:PRP treatment stimulates the natural healing and rejuvenation process of your skin. You may notice initial improvements in skin texture and appearance within a few weeks after the procedure. However, the full benefits of PRP may take several months to become fully apparent as collagen production increases and tissue regeneration occurs.
Individual Response: Every individual responds differently to PRP treatment. Factors such as the area treated, your body's natural healing process, and the severity of the concern being addressed can influence the timeline for results. Your healthcare provider will discuss your expectations and provide you with a personalized timeline based on your specific circumstances.
Maintenance and Follow-up: To maintain and enhance the results achieved with PRP, periodic follow-up treatments may be recommended. These treatments can help prolong the benefits and continue supporting collagen production and tissue rejuvenation.
Our goal at Elan Skin is to help you feel more confident about your skin. With over 150 years of combined experience, our expert service providers are dedicated to delivering exceptional results. We have been consistently voted one of Nashville's best skin centers by Nashville Scene, demonstrating our commitment to excellence.
PRP is just one of the many treatments we offer to address various skin concerns. Our knowledgeable professionals will guide you through the PRP procedure, tailoring it to your unique needs. Experience the regenerative effects of PRP and discover why our clients trust us as one of the leading med spas in Nashville.
Customer Reviews on Google
Excellent experience every single visit. Accommodating, understanding, experienced aestheticians make you feel comfortable and well cared for. Masterful injectors tailor procedures to your specific wants and needs without taking away from natural beauty. Elan is the oldest Medspa in Nashville, and it truly is a great place for all things aesthetics!
I highly recommend Elan Skin for your skincare needs! It is a beautiful space and I am also greeted with a warm welcome. Beth is the absolute best and I trust her fully for all my skincare needs! I can't say enough good things about Elan!
I love Elan Skin so much ! The staff is great and I always feel amazing when I'm done with anything I get done from an eyebrow wax, a facial, Botox or filler. They make you feel your best!