Pre-Treatment Guide For HydraFacial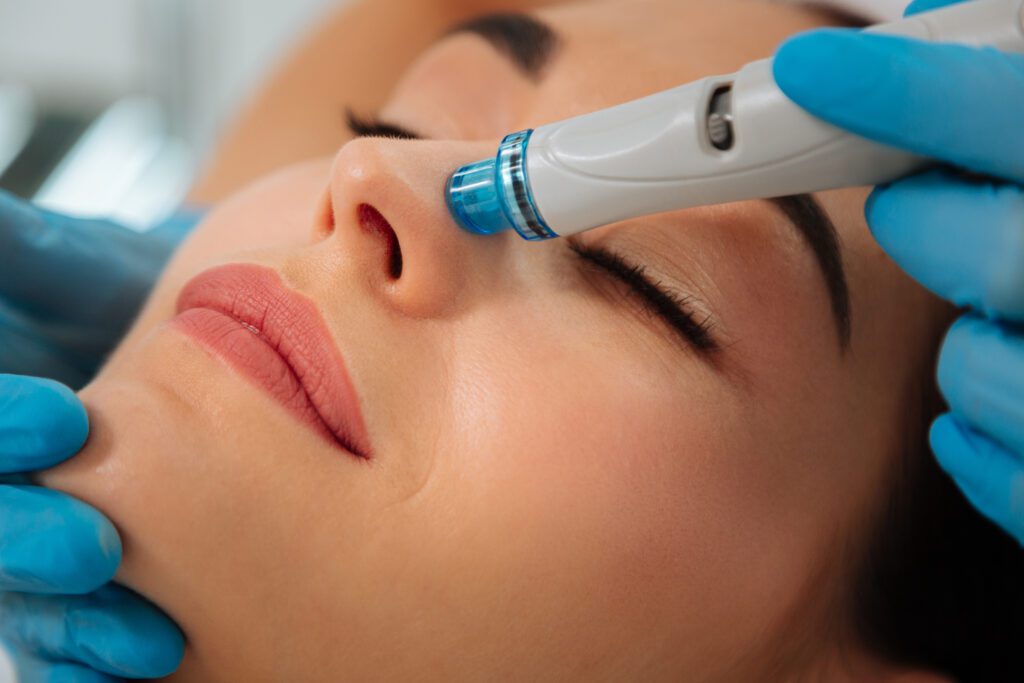 What is HydraFacial?
HydraFacial is a highly popular treatment that deeply cleanses, exfoliates, extracts, and hydrates the skin utilizing super serums filled with antioxidants, peptides, and hyaluronic acid. This customizable treatment utilizes medical-grade products, including SkinCeuticals, ZO Skin Health, and others. HydraFacials are effective in addressing various skin concerns such as brown spots, acne, hyperpigmentation, wrinkles, and more. You also have the option to add boosters that target specific needs, such as firming, clarifying, brightening, and reducing redness. Eye and lip add-ons are also available.
How to Prepare for a HydraFacial Treatment:
To ensure the best possible results from your HydraFacial treatment, follow these guidelines prior to your appointment:
Avoid excess sun exposure, including tanning beds for 1 week before treatment, and use SPF 30 or greater daily to ensure coverage against UVB and UBA rays.
Do not use any type of exfoliants 2 days before treatment.
Refrain from any chemical peels or lasers for 2 weeks prior.
Discontinue use of Tretinoin type products (Renova, Tretinoin, Retin A, Retin A Micro, Tri-Luma, Solage, etc.) at least 2 days before treatment.
Discontinue use of Hydroquinone 2-3 days before treatment.
Wait 2 weeks after Botox and filler treatments to have a HydraFacial treatment.
What to Expect During Your HydraFacial Treatment:
During your HydraFacial treatment, a specialized device will be used to cleanse, exfoliate, and infuse your skin with intensive serums. The treatment begins with a gentle tool that opens the pores and removes superficial debris from the skin. It is followed by a deeper extraction of stubborn debris using a specially designed vacuum tool that suctions the areas effectively. Once the skin is prepped, cleaned, and free from dirt and oils, the HydraFacial device will be used to infuse customized products tailored to your specific goals and needs. The treatment typically takes around 30 minutes, providing near-instantaneous results of deeply cleansed, stimulated, and hydrated skin.
The Elan Skin Difference:
Our goal at Elan is to help you feel more confident about your skin. Our expert service providers, with over 150 years of combined experience, are well positioned to achieve this. We offer a broad array of lasers and technologies to address the specific issues you want to target. Visit us and discover why we have consistently been voted one of Nashville's best skin centers by Nashville Scene.
We hope this information provides you with a comprehensive understanding of our HydraFacial service. If you have any further questions or would like to book an appointment, please don't hesitate to reach out. We look forward to assisting you on your journey to healthier, more radiant skin.
Customer Reviews on Google
Excellent experience every single visit. Accommodating, understanding, experienced aestheticians make you feel comfortable and well cared for. Masterful injectors tailor procedures to your specific wants and needs without taking away from natural beauty. Elan is the oldest Medspa in Nashville, and it truly is a great place for all things aesthetics!
I highly recommend Elan Skin for your skincare needs! It is a beautiful space and I am also greeted with a warm welcome. Beth is the absolute best and I trust her fully for all my skincare needs! I can't say enough good things about Elan!
I love Elan Skin so much ! The staff is great and I always feel amazing when I'm done with anything I get done from an eyebrow wax, a facial, Botox or filler. They make you feel your best!