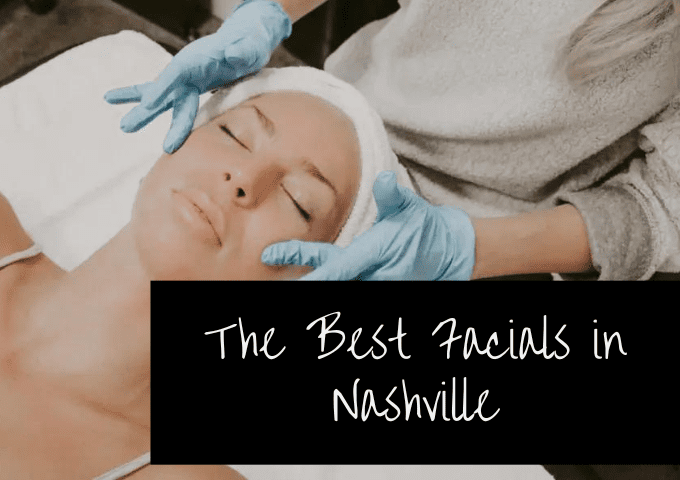 voted one of Nashville's best skin centers by Nashville Scene time and time again.
Everyone deserves a facial. Not only are they incredibly relaxing, but they offer a host of benefits for your skin. From cleansing and exfoliation to massages and more, facials can help you achieve and maintain clear, youthful skin. If you're new to the world of facials, don't worry! This blog post will introduce you to everything you need to know to choose the perfect facial for you!
What is a Facial?
A facial is a professional skin care treatment for the face that cleanses, exfoliates, and nourishes the skin. Facials can be performed at home or in a med spa by a aesthetician or other professional, and are often part of a regular beauty routine. 
There are many different types of facials, and the right facial for you will depend on your skin type. If you have sensitive skin, for example, you will want to avoid facials that use strong chemicals or abrasive techniques. 
Am I a Candidate for a Facial?
Anyone and everyone is a candidate for a facial, including teens. This is particularly the case if you are dealing with breakouts due to access oil, lack of hydration or other environmental issues. Facials are an extremely popular way to de-stress and promote healthier skin.
What are the Benefits of a Facial?
Facials offer many benefits including improved hydration, deep cleaning of pores, cellular regeneration, temporary glow and they can aid in the treatment of mild skin issues such as clogged pores that induce acne breakouts. Facials are also a great way to relax and ease tension.
How Often Should you get a Facial?
There is no one-size-fits-all answer to this question, as the frequency with which you should get a facial will depend on your individual skin type. However, as a general rule of thumb, it is generally recommended that you get a facial every 4-6 weeks.
If you have very dry or sensitive skin, you may need to get a facial more frequently in order to maintain healthy skin. Conversely, if you have oily skin, you may be able to go longer between facials. Ultimately, it is best to consult with a skincare professional to determine how often you should be getting a facial based on your specific skin type and needs.
Are There any Side Effects for Facials?
There are a few possible side effects associated with facials, but they are relatively rare and usually mild. Some people may experience redness, swelling, or irritation after a facial treatment. These symptoms should subside within a day or two. There is also the potential for an allergic reaction to the products used during your facial.
How Does it Work?
All Elan facials involve a pre-facial assessment of your skin and skin care needs, cleansing, exfoliation and extraction. Our signature facial also involves a massage and mask.
Cleansing: The aesthetician will begin by massaging a cleanser to remove any traces of makeup, dirt or debris. During this part of the process, your specialist will also evaluate your skin condition to access and recommend what treatment is best for your particular skin care needs.
Exfoliation: Depending on your particular skin care needs, steam, a warm cloth, chemicals or creams will be applied to open up pores and remove dead skin cells.

Extraction: This part of the process targets individual pores which have been clogged by dirt or dead skin cells which can induce acne, whiteheads or blackheads.

Massage: Depending on your chosen facial, a massage may be included to stimulate facial muscles, improve drainage and, of course, help you relax.

Mask: Depending on your chosen facial, a mask will be applied to treat excess oil or improve facial hydration.
What Facials are Available at Elan?
No matter what your skin type is, facials at Elan will incorporate what your skin needs to be its best.
Elan Signature Facial


A luxurious facial experience designed to address skin needs and help you relax. Includes deep cleanse, steam, exfoliation, extractions, and concludes with custom mask and shoulder and neck massage.

Elan Express Clean Facial


Our fastest, streamlined facial option. Includes deep cleanse, exfoliation, extractions, and concludes with mask OR light therapy.

Teen Facial  (for those still in college or younger)


Designed to address specific teen skin care needs. Includes deep cleanse, exfoliate, extractions, and light therapy.

Elan Medi-Glow Facial


Our most thorough and advanced facial. Includes deep cleanse, dermaplane OR microdermabrasion, extractions, skin peel and concludes with custom mask and shoulder and neck massage.
You can choose to add on Dermaplaning or a custom mask suited to your skin's needs to any facial. In addition, customized peels are available with most facial treatments; your aesthetician will be happy to make a recommendation based on the results of your pre-facial consultation.
Conclusion
Facials are a great way to relax and rejuvenate your skin. Elan Skin offers a variety of facial treatments to suit your individual skin type and needs. Whether you're looking for a quick cleanse or a more luxurious experience, we have the perfect facial for you. Book an appointment today!