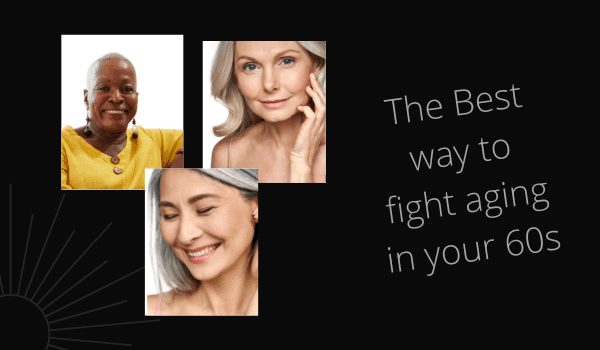 As you progress into your sixties, you may notice a papery texture to your skin as it dries and thins out. You may also notice that your skin is more vulnerable to redness and blotchiness at the slightest irritation. Sagging, dark spots, crow's feet, and fine lines are all things to watch out for as you enter your 60s and beyond.
Taking great care of your skin in your 60s is the number one way to fight these signs of aging and enjoy healthier skin. Here's what you need to know:
Your Routine
Cleanse
The most important piece of advice in your sixties is to avoid washing your face too frequently. Your skin's fatty acids are a precious and finite resource. Too much washing, especially with hot rather than lukewarm water, removes essential fatty acids from the skin's moisture barrier, making it more vulnerable to moisture loss. When cleansing, opt for an oil-based product to keep your skin supple and radiant all day long. Alternatively, you can also use a gentle exfoliating cleanser to remove surface particles and even out the complexion. 
Tone
In addition to completing the cleansing process, a toner helps to decrease the appearance of aging with hydration. After a gentle wash, use a toner that will tighten and hydrate your skin to help prevent it from looking saggy. 
Exfoliate
Use a gentle chemical peel, including lactic and glycolic acids, to remove dead skin cells. Active substances are more easily absorbed if they don't have to fight through the extra layer of thick dead skin that's regularly sloughed off. Exfoliation not only minimizes the appearance of wrinkles and other indications of aging, but also tightens the skin. 
Eye Cream
The skin around your eyes is the first place to exhibit symptoms of aging, and it's the most sensitive. Reduce the appearance of fine lines, under-eye bags, and dark circles with an anti-aging eye cream. Antioxidant-rich seaweed extract, for example, is a well-known anti-wrinkle agent.
Mask
Using natural and herbal ingredients, the masking step is your greatest ally in improving the appearance of aging in your 60s. 
Sunscreen
Collagen and elastin content in the skin is reduced by sun exposure. To slow this process down, apply a broad-spectrum sunscreen with an SPF of 30 or higher on older skin to prevent further loss of collagen. Also, try applying a vitamin C serum prior to applying your sunscreen to help it reach its photoprotective potential. 
Best Skin Care Treatments In Your 60s
Some dermatological skin treatments recommended for older skin are:
Light therapy for sun and age spots
Injectables such as Botox or Juvederm for skin-tightening
Chemical peels for glowing skin and sun damage reversal
Facials suited for a variety of skin concerns
Elan has the expertise, products, and treatments you need to keep your skin looking its best.  Book your consultation today!