Brow – $25
Brow/Lip – $35
Full Face – $55
What is Threading?
Threading is a hair removal technique used to shape your eyebrows. Originating in the far East, the process involves "threading" of string through the eyebrows to remove hair and shape eyebrows. Threading is a favored method of shaping eyebrows due to its precision and because it is considered the most gentle way to groom eyebrow hairs. Clients may experience a light tugging sensation, but generally do not experience pain. Much like waxing, results will typically last 2-4 weeks.
How does it work?
Threading is a very simple procedure. It involves a cotton thread being twisted through the eyebrow to remove hairs. The process of threading is much more accurate than tweezers for defining eyebrow shape. Threading is very precise, moving hair by hair, to shape eyebrows for a highly defined look.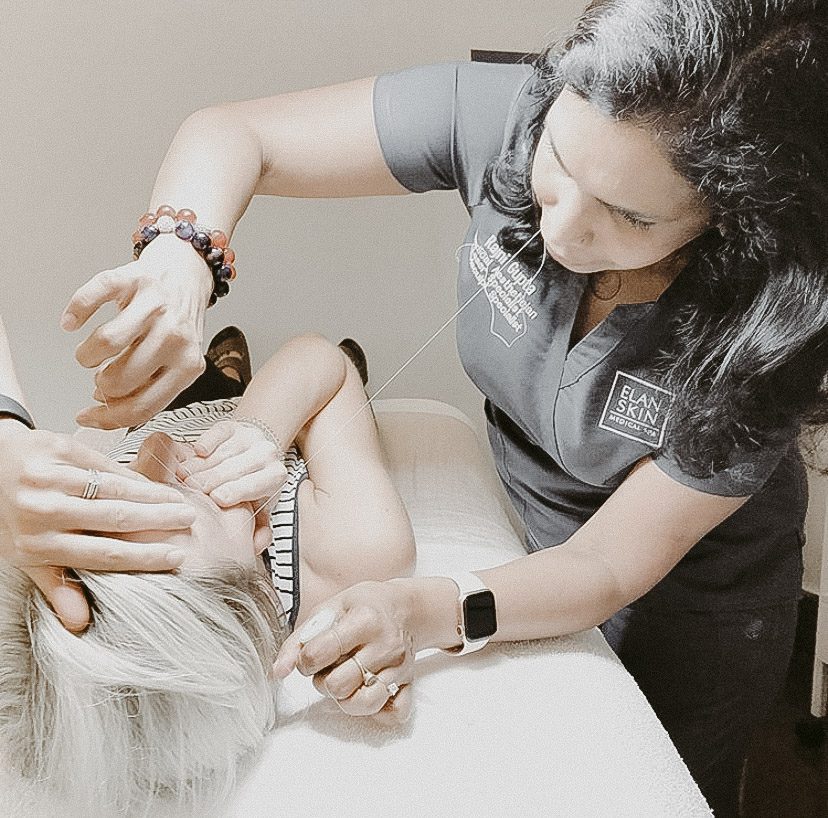 Candidates for Threading
Anyone can use threading as a way to shape and precisely define their eyebrows.
How long does it take to see results?
Results are immediate and the treatment is quick. As a part of the process, hairs are removed from the root, so there will be no half-grown hairs left behind.
Why choose threading?
Threading is preferred for two primary reasons. 1) It is a very precise method of hair removal for eyebrow hairs, moving hair by hair for a defined shape 2)It is a very gentle process. Unlike waxing or microblading, your surrounding skin will not be pulled or pricked during the treatment.
How long does it last?
Depending on the individual, results typically last 2-4 weeks.
Curious how to prepare for your Elan appointment? Curious about recommendations after your visit? See our Pre-Treatment and Post-Treatment Guides.
Customer Reviews on Google
Excellent experience every single visit. Accommodating, understanding, experienced aestheticians make you feel comfortable and well cared for. Masterful injectors tailor procedures to your specific wants and needs without taking away from natural beauty. Elan is the oldest Medspa in Nashville, and it truly is a great place for all things aesthetics!
I highly recommend Elan Skin for your skincare needs! It is a beautiful space and I am also greeted with a warm welcome. Beth is the absolute best and I trust her fully for all my skincare needs! I can't say enough good things about Elan!
I love Elan Skin so much ! The staff is great and I always feel amazing when I'm done with anything I get done from an eyebrow wax, a facial, Botox or filler. They make you feel your best!