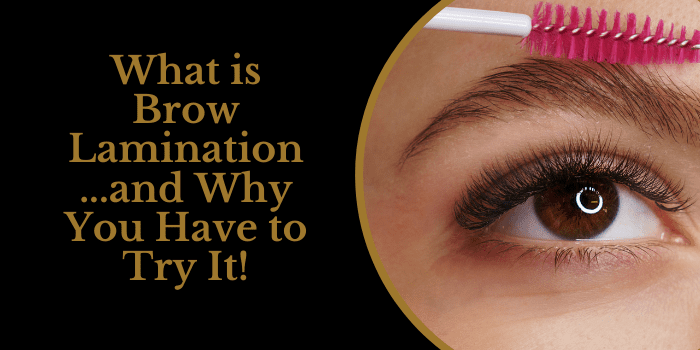 Move over microblading, there's a new sheriff in town! Brow lamination is the latest trend to get the full, sleek brows of your dreams. It's a simple process with long-lasting results and easy maintenance to keep your brows looking stylish. If you're looking for a brow refresh, look no further than brow lamination.
It is very rare that someone is born with perfect eyebrows.  Most of us could use a little assistance in the brow department. Whether we have thin or sparse eyebrows or just unruly ones, brow lamination may be the answer to many eyebrow issues.  It makes thin-looking brows appear fuller and all types of eyebrows hold whatever shape you like for up to two months!
What is It?
Brow lamination is non-invasive, three-step chemical brow shaping process that's a bit like getting a perm. Rather than adding curls, brow lamination focuses on lifting, straightening, and shaping the brows. The process is fairly simple and usually doesn't require more than an hour or so.
What Will Happen?
This simple three step process goes like this:
First, your eyebrows and the surrounding areas are cleaned and dried.
Your brow specialist will apply a lifting cream and then brush your brow hairs upward.
Next, a chemical neutralizer is applied. This neutralizer is what makes the new shape "take".
That's it. Once the brow is set in its desired shape, a nourishing oil is applied to lock in moisture and keep browns healthy. Now you may optionally shape your brows by trimming, plucking or waxing, and if desired, tint the brows.
Why Should I Consider Brow Lamination?
A brow lamination treatment is a more natural way to fix brow issues like gaps, thinning, overplucking, and general unruliness – all in a non-invasive manner. Unlike microblading, that adds color to simulate hairs that aren't there, lamination uses your natural brow hair for the desired effect. You might be surprised to see how brow lamination can work with your natural hairs, shaping them to appear fuller.
We find that the results are stunning. Brow hairs that stay perfectly in place no matter what's happening, with just enough lift and shape to look like you got them professionally done every day. With a brow lamination, your brows will look like twins instead of distant cousins! No more worrying about matching your brows with a pencil.
Brow Aftercare
After you get a brow lamination, it is necessary for you to avoid touching your brows or getting them wet for 24 hours. This helps your new brows to stay in place just as they were you left the salon.
When taken care of properly, brow lamination can last up to two months.
This low-maintenance procedure only requires that you keep your brows moisturized. You can use a nourishing oil or cream to keep them hydrated and healthy.
Are you ready to try a brow lamination for yourself? Schedule a consultation with one of our Elan skin experts! We offer brow services from lamination to microblading and everything in between. We can't wait to work with you on finding the perfect brow shape. We also offer lamination with brow tint if you need an extra boost in color. If you want to hop on the latest beauty trend, give us a call!