.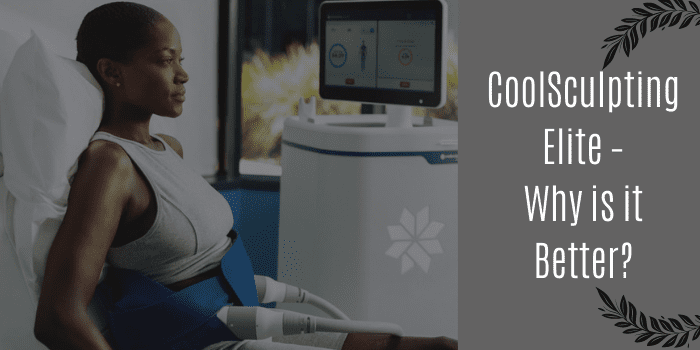 CoolSculpting Elite is finally here! After ten years' worth of improved technology and implementing the knowledge of recent medical advancements, the CoolSculpting treatment you've come to know has had a massive makeover. Let's check out specifically what has changed and why CoolSculpting Elite is even better at reducing stubborn fat in your body. 
What is CoolSculpting?
CoolSculpting is a non-invasive treatment procedure designed to remove fat cells from the body utilizing cryolipolysis, a technique that freezes fat cells and destroys them. Initially, this procedure involved the use of a vacuum device that would hold the fat between two panels and would freeze the receiver's fat without harming the skin. 
The fat cells would then disappear over time through a process called apoptosis. Individuals who underwent the procedure would generally have to wait 3 to 4 months to see results. 
How is CoolSculpting Elite Different? 
The basics of CoolSculpting Elite are not so different from its predecessor. Still its effectiveness and speed of application far exceed the former treatment, making it possible to achieve the result you want in fewer visits to your medical professional. 
Approved by the FDA, CoolSculpting Elite can remove stubborn fat in up to nine different areas. These include: 
Abdomen

Thighs

Love handles

Bra fat under the armpits

Upper arms

Back

Chin

Jawline
With the new and improved Elite system, you can expect to see results in as little as three weeks!
Reasons You Should Choose CoolSculpting Elite
You can find several new improvements in the equipment for your CoolSculpting Elite procedure, including:
Better Results, Fewer treatments
Bigger applicators now cover up to 18% more surface area of the body than regular CoolSculpting tools, which means you can expect shorter treatment sessions. CoolSculpting Elite can also use two applicators at once, making it possible to treat more than one area simultaneously instead of drawing out the process by only treating one. 
Improved Applicators
Elite now comes equipped with multiple different applicator heads to target specific areas with more precision than ever before. 
A More Comfortable Experience
The original CoolSculpting machine would cause some discomfort by pinching the targeted area until it became numb and had a much longer treatment time. Now, the Elite has faster freezing times, meaning you'll potentially have less discomfort and have an overall more relaxing time at your appointment. 
Is CoolSculpting Elite Right For Me?
.
CoolSculpting Elite is meant for those within at least 30lbs of their goal weight who can't seem to remove fat from specific areas, even after implementing a healthy diet and exercise routine. It's definitely not a quick weight loss gimmick.
The Elite is a safe and excellent alternative to liposuction if you're looking for a procedure that will help you achieve the body you want without having to undergo painful, invasive procedures with lengthy recovery periods. 
Talk to one of our providers at Elan today, and book a consultation to discuss your CoolSculpting Elite treatment plan!