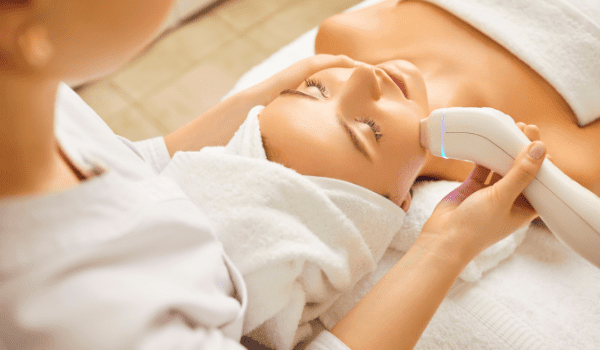 We can spend all the time and money in the world scouring the web for the ingredients to make our skin as radiant as can be. But the fact of the matter is, there's a more straightforward, more effective way to get the results you want.
 Professional facials allow for your skin to be assessed by a licensed aesthetician, that can then determine which products are guaranteed to make your skin glow—and leave you feeling more confident than ever. 
Skin care professionals help you:
Achieve A Deeper Clean
Getting your skin professionally cleansed helps your skin attain a healthy balance through expert-level exfoliation and steaming techniques that rid you of environmental toxins such as dirt and oil. 
Your aesthetician will also implement finely tuned extraction techniques to unclog your pores of blackheads or whiteheads, which can be tricky to do yourself at home. Most off-the-shelf products only partially remove impurities, whereas a professional facial can take care of the rest. 
Make Your Products Count
When getting a facial, you will most likely experience a lymphatic facial massage that will promote healthy oxygen and blood flow in your face. This allows your products to make a more profound impact and deliver benefits to your skin at a cellular level. 
Better absorption means more bang for your buck, as you'll be better at absorbing nutrients into your skin, providing lasting effects in less time, and making your investment worthwhile. You'll no longer feel any uncertainty surrounding whether you're utilizing enough products to make a difference. 
Be Uniquely You
 Bottom line—professional facials equip you with professional-grade products, tools, and the skills necessary to turn it all into the magic your complexion has been searching for. Facials done by a professional aesthetician are going to be tailored to your skin's unique needs, whether you need a moisture boost or anti-acne treatment. 
But the alchemy doesn't stop at the medical spa. Your aesthetician can also customize a take-home skin care routine to bring the experience home with you so you can ensure your skin will be the best it can be wherever you are!
If you're ready to take your skin routine to the next level, book your professional facial with a dedicated licensed aesthetician here at Elan so you can experience the game-changing benefits for yourself.