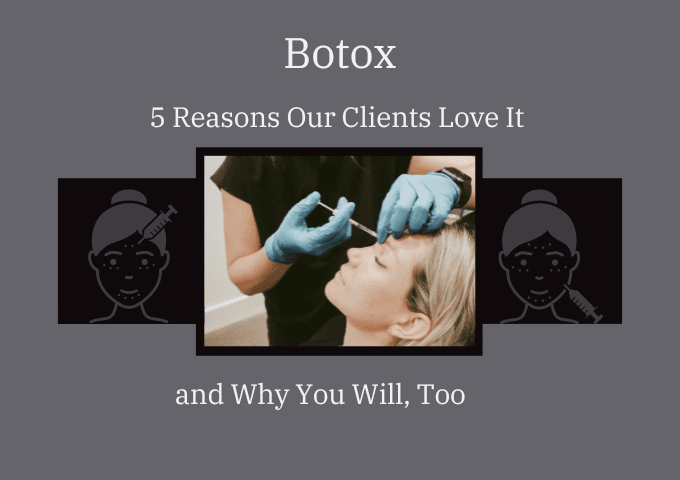 If you haven't already heard, Botox Cosmetic injections are all the rage these days. And for good reason! Here are five reasons our clients love getting Botox injections and why you will too:
1. It's a quick and easy way to achieve a younger-looking appearance.
Botox injections help to temporarily reduce the appearance of wrinkles and fine lines, giving your face a more youthful appearance. And the best part is, the results are usually seen within a few days!
2. It's a non-invasive procedure with no downtime.
Unlike other cosmetic procedures, such as facelifts or laser skin resurfacing, Botox requires no surgery or recovery time. You can simply schedule an appointment during your lunch break and be back to work in no time!
3. It's relatively affordable.
While the cost of Botox injections will vary depending on the number of units required and your geographical location, it is generally considered to be a very affordable cosmetic procedure.
4. It's safe and effective.
Botox has been used cosmetically for 20 years and has an excellent safety record. Additionally, Botox is one of the most studied cosmetic procedures, with literally thousands of scientific articles published on its safety and efficacy.
If you're considering getting Botox injections, we encourage you to schedule a consultation with our clinic.
What is Botox and How Does it Work
Botox is a simple, nonsurgical treatment that can temporarily smooth moderate-to-severe wrinkles in adults. It is most often used on the forehead, between the eyebrows, and around the eyes.
Botox works by blocking nerve signals to the muscles that cause wrinkles. This results in a temporary reduction in muscle activity and a decrease in the appearance of wrinkles. Treatments typically last 3-4 months and touch-ups may be necessary as the muscles begin to contract again.
Who is a Good Candidate for Botox?
If you are interested in reducing the appearance of wrinkles and fine lines, then Botox may be right for you!
Good candidates for Botox meet the following conditions:
You have moderate or severe lines on your face.
Botox can be used to treat wrinkles in a variety of locations, including around or between your eyes or forehead, and on your neck.
You are in good health.
Your expectations for improvement are realistic.
There is also some evidence that suggests that starting Botox before deep lines develop can prevent wrinkles from forming.
If you are concerned about wrinkles and fine lines on your face, we encourage you to come in for a consultation to learn whether Botox Cosmetic is right for you.
At Elan Skin, we always take a personalized approach to each individual's aesthetic goals. That way, we can ensure that you receive the best possible results from your treatments. To learn more about Botox and to see if it is right for you, contact us today to schedule a consultation.
Who is Not a Good Candidate for Botox Cosmetic?
If you are pregnant, nursing, or have a medical condition that affects your nervous system, you are not a good candidate for Botox Cosmetic. This is why it is so important to talk to your doctor and schedule a consultation at Elan Skin to see if Botox is right for you.
How Long do the Results of Botox Last?
The results of Botox are temporary, but they can last for several months. The average duration of results is four to six months. However, some people may see results for up to a year. We have also seen that when you have the injections regularly, the treatments sometimes last longer and longer.
How Fast Will I See Results from Botox Cosmetic Injections?
Most people who receive Botox injections will see results within a few days. However, it can take up to a week or two for the full effect of the injections to be seen.
Do Botox Injections Hurt?
Botox injections are well-tolerated with most patients considering them to be painless. A local anesthetic is applied at the time of your treatment to ensure your comfort.  The worst thing we hear about Botox injections is the feeling of a small pinch or a stinging at the injection site.
What About Side Effects?
Side effects vary from person to person and depend on the area being treated. Some potential side effects include swelling or redness, eye irritation, slight headache or neck pain. Typically, any potential side effects are short term and subside within a few days. If you ever have questions or concerns, our team is available to consult.
What is the Recovery Time for Botox Injections?
There is no recovery time required after receiving Botox injections, meaning you can return to your normal activities immediately afterwards. Exercise should be avoided for 24 hours.
Advice for Getting Ready for Treatment
When it comes to getting ready for a Botox treatment, there are a few things you should keep in mind. First and foremost, be sure to consult with a trained professional before undergoing any kind of injectable treatment. At our office, all of our injectors are highly trained and experienced in administering Botox treatments.
On the day of your treatment, avoid caffeine and alcohol as they can thin the blood and increase bruising. We also recommend avoiding strenuous activity or massage for 24 hours after injection to minimize swelling.
At your appointment, our team will take the time to address any questions or concerns you may have. We'll also cleanse the injection areas and mark them off so that we can ensure precise placement of the product. The entire treatment process takes just minutes!
What to Expect During Your First Botox Treatment
Your first Botox treatment will be quick and easy. The entire process takes about 15 minutes from start to finish. First, your provider will cleanse your skin and apply a numbing cream to the areas that will be treated. Once your skin is numb, your provider will inject the Botox into the desired areas using a very fine needle. You may feel a slight prickling sensation during the injections, but most people find the process to be quite tolerable.
They will then provide you with aftercare instructions and answer any questions you may have about the treatment. Most people experience little to no downtime after their Botox injection, so you can typically resume all of your normal activities immediately following your appointment. Exercise is an exception and should be avoided for 24 hours.
You should start to see results from your Botox injection within a few days, with full results manifesting within two weeks. These results typically last for four to six months before touch-ups are needed. With regular maintenance, you can prolong the effects of Botox for even longer periods of time!
After The Treatment
The Botox treatment is a simple and quick procedure that can be done in the comfort of our office. After the injection, you may experience some redness and swelling at the injection site, but this usually subsides within a few hours. You will also be able to see an improvement in your wrinkles within days, and the full results of your treatment will be visible within 2 weeks.
Here are our post-Botox guidelines:
Remain upright, no bending over or reclining for 4 hours
Do not exercise or elevate your heart rate after treatment for 24 hours
Do not massage or scratch the injection sites
Avoid makeup for 2 hours after injection
What is National Botox Day?
On November 16th, the 3rd annual Botox Cosmetic Day is taking place! Every year, on the third Wednesday of November, you can celebrate National Botox Day. It was established to help recognize how Botox has impacted American culture and conversation over the years.
Allergan, who makes Botox, hopes that National Botox Cosmetic Day will encourage loyal consumers and healthcare providers, as well as those considering treatment, to have a conversation about owning their look -with few lines.
Allergan, the manufacturer of Botox, is honoring its best-known injectable with a Buy One, Get One $50 Botox Gift Card. You must be a member of Allergan's rewards program, Alle, to get the most out of your Botox Day savings.
What are Allē Rewards?
Allē Rewards is a loyalty program that allows you to save on Botox and other treatments.
Here are five reasons our clients love Allē Rewards:
You can save big on Botox—Earn $20 for every 200 points earned. Points add up quickly with every treatment and product purchase. Plus, there are often bonus point opportunities throughout the year.
You can use your rewards at any time—There is no need to wait until you have enough points for a specific treatment. You can use your rewards as soon as you earn them.
You can choose how you want to redeem your rewards—Use your rewards toward future treatments or products, or convert them to cash that can be used anywhere.
You'll always receive the best pricing—As an Allē member, you'll always receive exclusive pricing on treatments and products, including special event pricing and flash sales.
You can share your rewards with a friend—When you refer a friend to join Allē, they'll receive $20 off their first treatment or product purchase, and you'll earn 500 points!
Is Botox right for you? Ultimately, that decision is yours to make. Botox is an incredibly popular treatment for a reason — it works! Our clients love the results they see from their treatments and we think you will too.
If you're looking for a way to rejuvenate your appearance and boost your confidence, we think Botox is a great option for you! So, what are you waiting for? Book an appointment online or by phone at 615.814.4999 today!