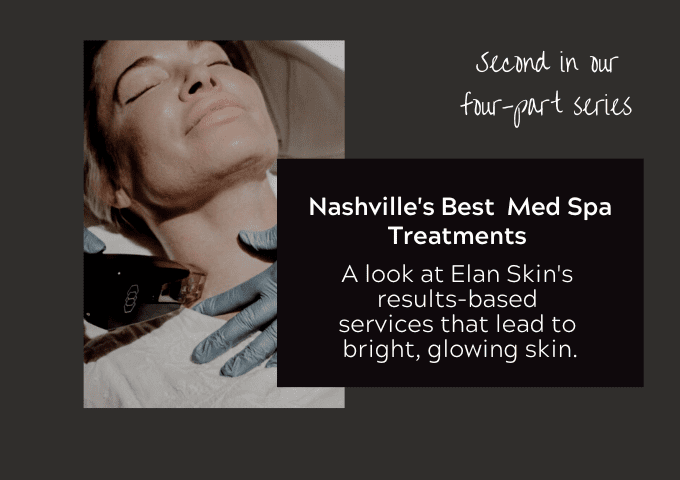 When you're looking for a modern Med Spa in Nashville, look no further than Elan Skin. Located in the Green Hills area, Elan Skin is your premier Med Spa, providing Nashville's best med spa treatments. Voted one of Nashville's best skin centers by Nashville Scene time and time again, we have provided world class aesthetic and skin services since 2004, making us one of the most trusted providers in Nashville.
This is the second installment in our series on services provided by Elan Skin and Laser.  In the first installment we covered Injectables, Microneedling, HydraFacial, DiamonGlow, and PRP. Today, we're going to start with everyone's favorite med spa treatment: Facials.
Facials
Anyone and everyone is a candidate for a facial, including teens. As a matter of fact, teens who are dealing with breakouts due to excess oil, lack of hydration or other environmental issues can especially benefit from them. Facials are an extremely popular way to de-stress, relax, and promote healthier skin.
How does it work?
At Elan, all facials involve an assessment of your skin and skin care needs. Facials include cleansing, exfoliation, and extraction. Our signature facial also involves a massage and a mask.
Cleansing: The aesthetician will begin by massaging a cleanser to remove any traces of makeup, dirt, or debris. During this part of the process, your specialist will also evaluate your skin condition to assess and recommend various things based on your particular skin care needs.
Exfoliation: At this stage, steam, a warm cloth, chemicals, or creams will be applied to open up pores and remove dead skin cells.
Extraction: This part of the process targets individual pores which have been clogged by dirt or dead skin cells, which can induce acne, whiteheads or blackheads.
Massage: Depending on your chosen facial, a massage may be included to stimulate facial and relax muscles and improve drainage. 
Mask: Depending on your chosen facial, a mask will be applied to treat excess oil or improve facial hydration.
Facial Offerings at Elan
At Elan Skin and Laser, we offer the following facials:
Elan Signature Facial


A luxurious facial experience designed to address skin needs and help you relax. Includes deep cleanse, steam, exfoliation, extractions, and concludes with custom mask and shoulder and neck massage.

Elan Express Clean Facial


Our fastest, streamlined facial option. Includes deep cleanse, exfoliation, extractions, and concludes with mask OR light therapy.

Teen Facial

(for those still in college or younger)




Designed to address specific teen skin care needs. Includes deep cleanse, exfoliate, extractions, and light therapy.

Elan Medi-Glow Facial


Our most thorough and advanced facial. Includes deep cleanse, dermaplane OR microdermabrasion, extractions, skin peel and concludes with custom mask and shoulder and neck massage.
Once you decide which facial  you want, you can choose to add services:
Facial Add-ons:
Dermaplaning


Add to any facial, peel, or skin treatment

Custom Mask


Mask suited for your skin's needs—add to any facial, peel, or skin treatment
Dermaplaning
What is Dermaplaning?
Dermaplaning is a popular, non-invasive technique to remove the top-layer of dead skin cells and vellus hair (also known as "fine hair"). Dermaplaning is beneficial for helping achieve brighter and "more even" skin. In particular, in regard to smoothing the application of makeup following the treatment. While dermaplaning can be performed on any part of the body, it is a less efficient method for covering large areas and, therefore, is typically only applied to the face.
How does it work?
Dermaplaning is a simple and relatively quick procedure. The treatment involves scraping the top-layer of facial skin with a surgical-grade scalpel to remove vellus hair and exfoliate the skin. Due to the sharpness of the scalpel, it is best performed by an Elan Skin care specialist that has extensive experience with the instrument. No serum or solution is used to allow for the best results. Most clients report no irritation or pain during the treatment and absolutely love the way it makes their skin feel after.
Chemical Peels
What is a Peel?
Chemical peels are a great way to remove signs of aging, increase skin radiance, improve sun damage and reduce pore size. The primary focus of this procedure is to apply a predefined regimen of chemical solutions to remove dry or damaged skin cells and reveal the new, healthy skin cells underneath. Chemical peels can be applied to improve the appearance of the face, neck, décolleté, and hands.
Elan Skin provides a wide range of peel options and each is designed to target individual skin care needs. We offer light peels for superficial peeling, often involving no down time. Moderate peels that may result in 2–5 days of gentle sloughing, which can easily be managed with extra moisturizer and can be covered with makeup. Finally, we provide intense peels, which offer more dramatic results, but may involve more visible peeling and sloughing for 5–7 days or more. To determine which peel best suits your individual skin care needs, we recommend consulting with one of our medical skincare specialists.
How does it work?
 A chemical peel works by altering your skin's normal pH levels to loosen cells and remove dead skin. The procedure will begin with a thorough cleaning of the treated area and with the application of a protective ointment to sensitive areas of the skin. A chemical peel solution will then be applied to your skin for a predetermined amount of time. 
Depending on the type and the depth of the chemical peel, you may feel mild stinging or burning while the chemical solution is on your skin. However, discomfort usually subsides at the point when the neutralizing agent is applied (in some cases, a neutralizing agent is not needed). In all cases, post-procedure instructions will be given to care for your skin in the hours following your treatment, that evening, and for the days following your chemical peel.
Elan Skin offers a variety of peels that range in focus and intensity. Prior to any chemical peel, you should consult with an Elan Skin care professional to determine the best treatment plan for you. Depending on factors such as your skin's current condition, personal goals, lifestyle and desired outcome, the best treatment approach for your skin will be recommended, including the number of sessions required as well as home care instructions.
Elan offers:
Alpha Beta Peel


Instantly improves skin clarity, firmness, and radiance.

Jessner Peel


Lightens and evens overall skin tone and softens fine lines and wrinkles.

Mandelic Peel


Calms and soothes redness and rosacea and minimizes pore size.

Vitalize Peel


Improves photo-damaged skin, fine lines, and unwanted pigment.

Rejuvenate Peel


Addresses melasma, hyperpigmentation, and acne scarring.

TCA Peel


Softens fine lines and wrinkles and reduces hyperpigmentation. Downtime: 3-7 days.

ZO 3 Step Peel


Our most intensive–to combat the signs of aging and skin discoloration. Downtime: 7-10 days.
Plasma IQ
What is a Plasma IQ?
Regain your youthful appearance without surgery or extended downtime. Plasma IQ is the first FDA Class II device cleared to deliver targeted plasma energy to renew and tighten skin. This non-surgical procedure may be used to address sagging or loose skin around the eyes, lips, and cheeks.
Plasma IQ results are immediately noticeable, however, maximum results are typically seen after 3–6 weeks. Most clients will experience superior results following multiple treatments, typically spaced 6 weeks apart.
How does it work?
Plasma IQ is a breakthrough therapy for addressing loose and sagging skin through controlled micro-injuries and highly advanced plasma technology. While the science may seem complex, the procedure is quite straight-forward. In essence, a Plasma IQ pen ionizes nitrogen gas particles in the air to create a plasma arc. When the Plasma IQ device is brought near the skin, the plasma arc interacts with the epidermis, causing sublimation and inducing an immediate tightening of the skin and constriction in the targeted area.
As a part of the procedure, micro-injuries to the surface of the skin can be seen in the treated area and will typically persist for approximately one-two weeks following the treatment. These micro-injuries continue to promote skin firming as the body naturally heals from the procedure. Results are immediately noticeable, but improved results are typically achieved after 3–6 weeks. Multiple treatments have been shown to improve the length of results and maximize outcomes.
Healthier Skin. More Confident You.
If you're looking for healthier, more youthful skin, then you should definitely consider a med spa treatment like Facials, Dermaplaning or Chemical Peels. These treatments can help improve the overall appearance of your skin, making you look and feel younger. So why wait? Book an appointment or consultation today and see the amazing results for yourself. 
Book online or by phone-615.814.4999