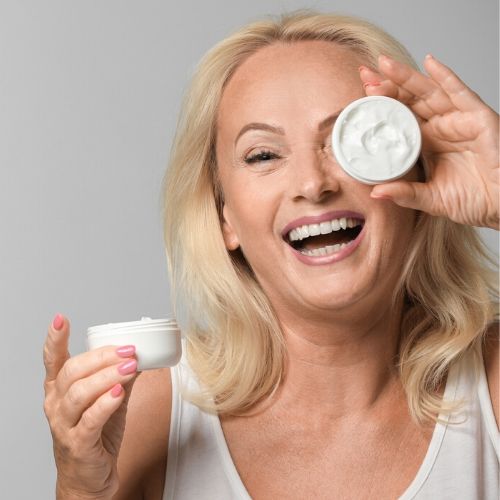 Jennifer Anniston, Jennifer Lopez, Rob Lowe, Salma Hayek, Tom Cruise – what do all these names have in common? Yes, they are all actors; however, they are also all over 50 and look just as good (if not better) than they did ten years ago.
Some of this could be chalked up to lucky genetics, but we suspect these celebrities have all simply learned how to slow down the effects of aging on their skin. Fighting aging in your 50s is all about self-care and maximizing results from the right products and treatments.
People in their 50s often become more self-assured in their views and opinions, which is why it's the perfect time to increase confidence in your skin and promote a healthier you. Today, with numerous health and skin-care advances, putting off aging is not only en vogue, it is the norm for many in this age bracket.
Your 50s And Your Skin
Let's talk about estrogen. Basically, it's everything to how your body reacts to aging; and in your 50s, estrogen levels begin to decline. This has some significant impacts to your skin. Firstly, hormonal changes (such as menopause) that occur during this time-frame include reduced blood flow so less nutrients and oxygen reach the epidermis and this results in thinner skin. Around this time, many will also notice that their skin becomes drier as estrogen levels drop and many females will lose their ability to retain water. Finally, estrogen regulates melanin. As we enter our 50s, melanin production increases, causing brown "age" spots that appear on our hands, neck, faces and chests.
Menopause is also when collagen levels start to plummet. Collagen, the most abundant protein in the body, promotes cell repair and keeps skin soft, smooth and firm. The good news is there are many ways to supplement collagen to reduce wrinkles and crepey skin.
Your Skin Care Routine In Your 50s
During this decade the focus is on adding moisture to your skin, increasing radiance, and decreasing some of aging's more prominent signs (goodbye wrinkles and age spots).
Adding Moisture
Start with your daily routine and the products you use both morning and night. Focus on gentle cleansers and serums and moisturizers that are packed with hydrating ingredients. Gentle cleansers ensure that your skin isn't unnecessarily stripped of moisture. Serums and creams packed with antioxidants also enhance skin repair through the night.
At Elan Skin, we have a variety of high-quality product lines available to provide a uniquely customized regimen for each of our clients.
We also recommend incorporating a monthly facial to your overall routine. Not only will facials combat the build up of dust and grime that accumulates in pores, but our Hydration Boost Mask can be added to pack a powerful punch against dry skin.
Increasing Radiance
A common complaint we hear from clients in their 50s is the loss of radiance. Many women come to us to rejuvenate their skin by evening out their skin tone and encouraging a refreshed appearance.
Microneedling, chemical peels and microdermabrasion are some of the most popular skin treatments we offer to remove the top layers of dead skin and reveal softer, younger skin underneath.
Reverse Aging
Though we are big fans of appreciating the aging process in general, we love that those fine lines, wrinkles and age spots don't have to come with it. Though we take pride in aging gracefully, it's also fun to have people guessing you're a few years younger than you are.
By our 50s, most of us will have some telltale signs of aging. In the past, we had to make the choice to either accept these or do something drastic. Thankfully, today's injectables, treatments and lasers allow us to subtly erase those fine lines and hyperpigmentation without calling attention to what we've done.
For example, our MiXto laser treatment uses carbon dioxide to resurface the skin's texture, eliminating visible signs of aging and dramatically improving the skin's overall tone. IPL addresses red and brown spots from sun damage and carefully minimizes skin issues.
Botox, one of the most popular injectables in the country, provides added plumpness by relaxing facial muscles and smoothing wrinkles. Juvéderm Fillers help improve signs of aging by replacing lost volume and Kybella improves the appearance of a saggy neck. All of these can be done with a light touch to keep things natural looking too.
Women and men are redefining aging and thanks to celebrities like Sheryl Crow, Nicole Kidman and Halle Berry, turning 50 doesn't look anything like it did in the past. Instead of growing "old" and disappearing, we've learned to look well-rested, healthy and fresh. Some might say, we're even looking better than we did twenty years ago too.