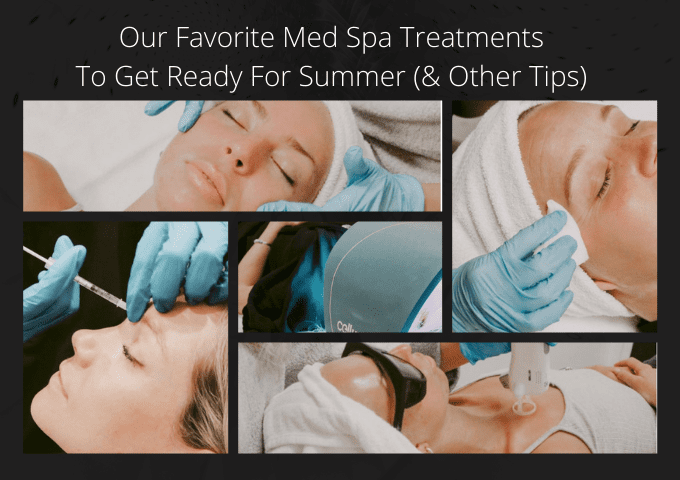 Summer is here, and that means we'll be breaking out the shorts and bathing suits. Naturally, we all want to look and feel our best, so it's time to start thinking about getting your skin and body ready! 
One of our favorite ways to do this is through med spa treatments. Whether you want to get rid of cellulite or smooth out stubborn areas on your skin, there are a number of great options available at Elan.
CoolSculpting:
One of our personal favorite treatments is CoolSculpting. The CoolSculpting procedure eliminates stubborn fat safely and effectively, without surgery or downtime. This fat reduction treatment is the only FDA-cleared procedure to use controlled cooling to safely target and eliminate diet- and exercise-resistant fat. CoolSculpting results are proven, noticeable, and lasting, so you'll look and feel great from every angle.
You may be thinking: Seriously? Freeze away fat? 
It comes down to science. Fat cells freeze at higher temperatures than surrounding tissues. CoolSculpting technology safely delivers precisely controlled cooling to gently and effectively target the fat cells underneath the skin. The treated fat cells are crystallized (frozen), and then die. Over time, your body naturally processes and eliminates these dead cells, leaving a more sculpted you.
This treatment uses a special device to freeze and eliminate fat cells, resulting in a slimmer appearance. It's a great option for those who want to get rid of stubborn areas of fat that don't respond to diet and exercise.
Dermaplaning:
If you're looking for a treatment that will improve the overall appearance of your skin, we recommend dermaplaning. Dermaplaning is a popular, non-invasive technique to remove the top-layer of dead skin cells and vellus hair (also known as "fine hair"). During this procedure, a surgical-grade scalpel is used. Therefore, the treatment is best performed by an experienced aesthetician. Dermaplaning is beneficial for helping achieve brighter and "more even" skin. This leaves your skin feeling smooth and looking brighter and more radiant.
While dermaplaning can be performed on any part of the body, it is a less efficient method for covering large areas and, therefore, is typically only applied to the face.
Laser Hair Removal:
Another treatment that we love is laser hair removal. It's a great option for those who are tired of dealing with unwanted facial or body hair. This simple and non-invasive procedure targets highly concentrated light at a specific depth, with the end result of permanently destroying hair follicles to remove unwanted hair.
The procedure may not be for everyone. It is effective on hair with pigment and therefore, may not be suitable for blonde, gray or true red hair. Most clients see sustained hair reduction after 6 to 8 treatments. This extremely popular procedure is a safe, effective and speedy way for removing unwanted hair down to the follicle.
A couple of things to keep in mind: Sun exposure in the areas treated should be avoided for one week before and after treatment. After treatment, the area may be red for 24 hours, but is easily treated with aloe vera. 
(Savings alert: At Elan, you can purchase Laser Hair Removal as a package of 6 or more, and receive a 20% discount! Score!)
Botox:
It's funny how small things can have such a big impact. Fine lines and wrinkles on our faces can make us look older than we are – or feel! If we want to keep a youthful appearance this summer, Botox is a popular treatment that can help. This treatment involves using a series of injections to relax the muscles in the face, helping to smooth out wrinkles and fine lines, helping us look as young as we feel. Treatments typically last 3 to 6 months – so come in for a consultation today and be ready for summer!
(We'll let you in on a way to save on Botox and other treatments: Join Alle Rewards! You'll earn points for various procedures and every 100 points equals $10 in savings to be used on future procedures. You're welcome!)
A Few Other Tips:
Along with med spa treatments, there are other tips you can use to get ready for summer. For example, staying hydrated, eating healthy foods, and getting plenty of rest and exercise are all great ways to stay looking and feeling your best.
Give your skin a little TLC by taking shorter showers and avoiding hot tubs and saunas, which can dry out your skin. Keep a summertime glow by exfoliating your skin regularly to remove dead skin cells and improve its overall appearance. And whatever you do, moisturize!
Last, but not least–don't forget the sunscreen! Wearing sunscreen with an SPF of 30 or higher can help protect your skin from the harmful effects of the sun, including skin cancer and premature aging.
At the end of the day, there are several great med spa treatments available to help you get ready for summer. These are just a few of our favorites. If you're interested in learning more about these and other treatments, or finding out which ones are right for you, we recommend talking to an Elan professional. They can help you assess your needs and find the best treatments to help you achieve your goals.
So, what are you waiting for? Call us at: 615-814-4999 to schedule your consultation to see how we can help you get summer ready!