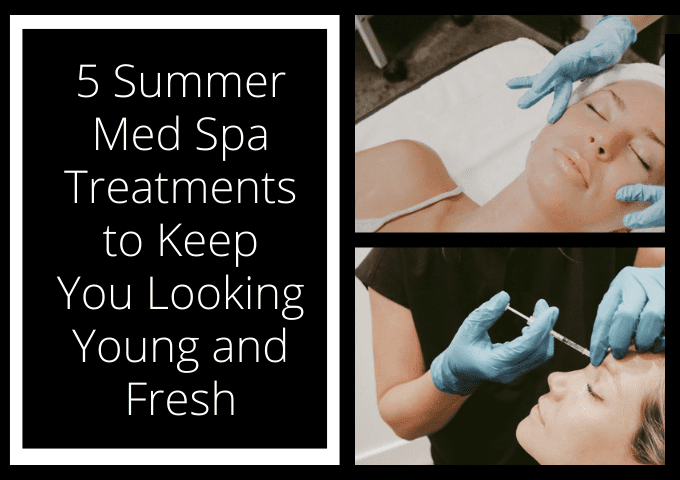 Summer is a time for fun in the sun, but it's also a time when our skin takes a beating. Between the sun, chlorine, and salt water, our skin can start to look tired and old. If you want to keep looking young and fresh this summer, consider getting some med spa treatments done. In this blog post, we will discuss 5 med spa treatments that are perfect for summer!
Facials
Summer is the perfect time to get a facial. If you're looking for a med spa treatment that will leave you feeling refreshed and rejuvenated, consider getting a facial! Facials are great for all skin types and can help improve the overall appearance of your skin. At Elan Skin we offer several different facials. All facials either include or have the option of adding dermaplaning or a custom mask.
One of our favorite facials is our Elan Signature Facial and it is perfect for summer skin-care needs. It includes:
Deep cleansing

Steam

Exfoliation

Custom mask

Shoulder and neck massage.
This facial will leave your skin looking and feeling refreshed and radiant.
Our Elan Express Clean Facial is our fastest, streamlined facial option. It includes:
Deep cleansing

Exfoliation

Extractions

A mask

or

light therapy
This facial is perfect for busy people who want to get in and out quickly!
Our Teen Facial is designed with teen skin care needs in mind.  It includes:
Deep cleansing

Exfoliation

Extractions

Light therapy
This facial is perfect for teenage skin, which can be especially prone to breakouts and is specially designed for those still in college or younger.
Our Elan Medi-Glow Facial, our most thorough and advanced facial, is perfect for summertime.  It includes:
Deep cleansing

Microdermabrasion or dermaplaning

Skin peel

Extractions

Custom Mask

Shoulder and neck massage.
This facial will leave your skin looking and feeling refreshed, radiant, and smooth.  It's perfect for anyone who wants to take their skincare to the next level.
Peels
Summer is also a great time to get a chemical peel. Chemical peels are a fantastic way to remove signs of aging, increase skin radiance, improve sun damage, and reduce pore size. The primary focus of this procedure is to apply a predefined regimen of chemical solutions to remove dry or damaged skin cells and reveal the new, healthy skin cells underneath. Chemical peels can be applied to improve the appearance of the face, neck, décolleté, and hands.
Elan Skin provides a wide range of peel options and each is designed to target individual skin care needs. We offer light peels for superficial peeling, often involving no down time. Moderate peels that may result in 2 – 5 days of gentle sloughing, which can easily be managed with extra moisturizer and can be covered with makeup. Finally, we provide intense peels, which offer more dramatic results, but may involve more visible peeling and sloughing for 5 – 7 days or more. To determine which peel best suits your individual skin care needs, we recommend consulting with one of our medical skincare specialists. Elan Skin offers a number of peels, including.
Alpha Beta Peel
Instantly improves skin clarity, firmness, and radiance with a gentle blend of alpha and beta hydroxy acids. Expect minimal dryness.
Jessner Peel
A blend of exfoliating acids that lighten and even overall skin tone and softens fine lines and wrinkles. Layered applications allow for customized results.
Mandelic Peel
This gentle peel calms and soothes redness and rosacea and minimizes pore size. Skin looks instantly firmer.
Vitalize Peel
Improves photo-damaged skin, fine lines, and unwanted pigment with a unique blend of high concentration retinol, alpha hydroxy acids, resorcinol, and other active cosmeceutical ingredients.
Rejuvenate Peel
Addresses melasma, hyperpigmentation, and acne scarring. Enhanced exfoliation occurs at the deeper layers of the epidermis where problems originate. Noticeable improvement after one peel, and significant results experienced after a series.
TCA Peel
Softens fine lines and wrinkles and reduces hyperpigmentation with this moderately intense peel. Downtime: 3-7 days
ZO 3 Step Peel
Our most intensive peel-utilizes a blend of exfoliants, retinol, and multi-action agents to combat the signs of aging and skin discoloration. Downtime: 7-10 days
Optional peel add-ons include Dermaplaning and Extractions/Spot Treatments.
To determine which peel best suits your individual skin care needs, we recommend consulting with one of our medical skincare specialists.
Laser Hair Removal
If you're okay avoiding heavy sun exposure before your visit, another great med spa treatment for summer is laser hair removal. Laser hair removal is a great way to get rid of unwanted hair on your body. It's fast and efficient with minimal pain,. This simple and non-invasive procedure targets highly concentrated light to a specific depth to remove unwanted hair, resulting in permanently destroyed hair follicles. The procedure is effective on hair with pigment and therefore, may not be suitable for blonde, gray or true red hair. Most clients see sustained hair reduction after 6 to 8 treatments. This extremely popular procedure is a safe, effective and speedy way for removing unwanted hair down to the follicle. Skin in the area treated may be red for 24hrs, but is easily treated with aloe vera. Sun exposure in areas treated should be avoided for one week prior and post treatment.
You can choose to remove hair from small areas like the lip, chin, underarm or bikini area. Or choose a medium area like 1/2 leg, back or Brazilian, or go all out and choose a large area and remove the hair from your full leg! You can even purchase Laser Hair Removal as a pack of 6 or more and receive a 20% discount!
Light Therapy
Light therapy is a non-invasive treatment that uses narrow band, non-thermal LED light to accelerate rejuvenation and repair skin cells. It's a popular treatment due to its broad usage for improving sun damage, acne, dermatitis, rosacea, eczema, psoriasis and general skin radiance.
Light therapy is an extremely relaxing method of promoting healthier skin. All you really have to do is lay back, and let the light do its magic. The core of the procedure involves specialized light energy being focused on the skin to increase collagen production as well as elevate ATP production in the cells of your skin.
Results from light therapy are seen over time and typically we recommend multiple sessions to maintain and maximize results.
Injectables
How do we talk about med spa treatments to keep you looking young and fresh without mentioning injectables? Injectables for skin care are highly popular procedures to help relax facial muscles and reduce signs of aging, or alternatively, rejuvenate and enhance soft-tissue volume loss.
There are two primary forms of injectables used in skin care, neurotoxins (such as Botox and Dysport) and dermal fillers (such as Juvederm, Restalyne and others). Each category has distinct usages. Fillers can last from 6-12 months and Botox can last up to 4 months. Getting your injectables now will get you through the summer with a younger, fresh look.
Injectables offer many solutions to common skin issues. If you are new to injectables, contact Elan Skin for a complimentary consultation to help determine the best product(s) for your individual needs.
And don't forget! You can save on your injectables treatments by joining Alle and Aspire rewards programs!
Elan Skin is the perfect place to go for all your med spa needs. We offer a variety of services that will help you look and feel your best. Book online or contact us today at 615.814.4999 to schedule a consultation! Remember, looking and feeling great has never been easier than with Elan Skin. This summer, let us help you achieve the youthful appearance you've always wanted!